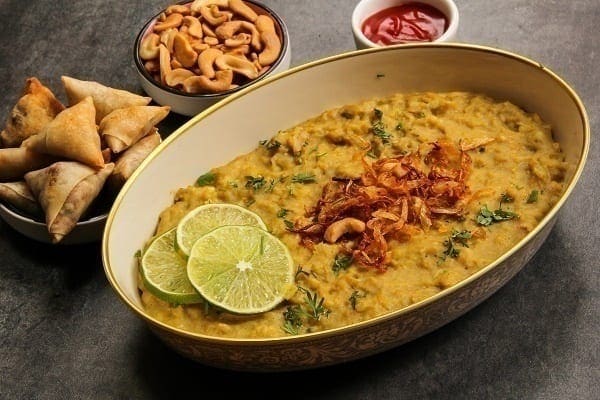 It is not surprising that the Mutton is one of the popular dishes for Non-vegetarians. There are wide varieties of mutton recipes available in the world with a different taste and cooking techniques. Every recipe is unique as it is of different taste at all. When you speak about Mutton, you may go back to the childhood days as every Sunday is incomplete without mutton recipes. A few years back, mutton curry is the common recipe for many. However, people found the variety of mutton recipes nowadays. Some of the delicious mutton recipes including,  Mutton Paya, Mutton pepper fry, khatta Meat, Chettinad Mutton curry, Peshawari ran Dhabe dab keema, Galouti kebab and much more. One of the prettiest choices is Mutton kitchda.
Why is Mutton Kitchda so special?
Mutton kitchda is the great combination of broken wheat, lentils, meat and rice. Khichda is very popular among Muslims in south India. Khichda is usually cooked in the month of Muharram and Ramzan. Though it is the seasonal recipe, it is more common to see in Muslim's house. Such a mouth watering recipe is being cooked by south Indian especially Muslims during Ramzan. If you heard about Khichda means you may know about Haleem.  Haleem is made using the same ingredients but the taste and cooking method differ. However, once you taste this amazing recipe, you never say no to it.
Benefits of Ktchda recipe
One more interesting thing is that you can have Chicken Khichda, if you don't like this Mutton Kitchda. Surprisingly, Khichda recipe is the rich source of protein as it is cooked with meat.
Chicken Khicda is much like Mutton Kitchda, except the cooking time. If you have few hours, you can prepare Chicken Khichda as chicken does not time-consuming to cook.  It would be more delicious if you keep the Mutton Khichda in a refrigerator for a day. Additionally, it is packed with vitamins, carbohydrates, and minerals as it contains barley, wheat, and rice. If you are vegetarian, you can try out it with the same ingredients except for Mutton. This cuisine is a popular dish in Iftar and Ramzan, thus it is being the part of daily meals. Haleem is originated in Persia but is widely used by India and pakisthan.
Diversification in flavours and methods of Mutton Khichda
Since it is being cooked in many countries, ingredients remain the same but the cook techniques vary from place to place. The Mutton Khichda recipe is made from fleshy Mutton and fresh vegetables. Some of the common ingredients in recipe include ginger, basmati rice, green gram, vegetable oil, coriander leaves, garam masala, cumin seeds, cinnamon, onion, cloves, black pepper and Bengal leaves.  The dish is slowly cooked as a result it forms thick consistency with the great blends of meat, barley, wheat, and spices. Though it is a time-consuming process, it serves the people with the rich source of protein, vitamins, iron, zinc and much more. This is why Mutton kitchda recipe is being cooked on Ramzan and Iftaar.