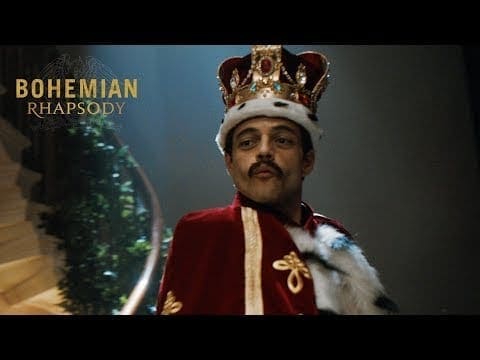 Sukrit Taneja | Guest Blogger
A Queen fanboy ever since I could listen to music, one of the biggest things on my 'to-watch' list this year was 'Bohemian Rhapsody'!
First things first, the casting is spot on. Rami Malek stars as Freddie Mercury and he does an absolutely brilliant job, right from his hand movements to the way he walks to his lip movements; everything hauntingly identical to Mercury. The film shows the humble beginnings of the rock band all the way to them pulling off one of the greatest live acts in rock history, all in an astoundingly convincing recreation. Gwilym Lee, Ben Hardy and Joseph Mazello portray the characters of Mercury's bandmates Brian May, Roger Taylor and John Deacon respectively and give very convincing performances..
Queen reached unparalleled success but in a surprising turn of events Mercury leaves Queen in pursuit of his solo career. He suffers greatly without them and he reunites with Queen braving an AIDS diagnosis just in time for one of the greatest live performances of all times- Live Aid
Bohemian Rhapsody is a beautifully directed movie even though the first half may seem a little off. It's the celebration of Queen, and a never seen before peep into the life and times of Freddie Mercury. He strives to make music that combines the scales of the Opera, the wit of Shakespeare and the grandeur of theatre, everything in the form of an epic poem. Everyone knows the band, the movie narrates the story of the frontman. Bohemian Rhapsody skims the surface of the singer-songwriter's formative years, ethnicity, sexuality, and drug addiction. It is a story of a broken man, a man without love, a man in search of himself, a man who reached greatest heights of success only to get caught in a downward spiral of alcohol, drugs and overconfidence.
The emotions are very well portrayed, you are sad when he is alone in his big mansion, you feel the anger when Mercury is betrayed by the manager, you feel excited when Freddie is waiting to get on stage for Live Aid. You consume and receive the energy, you feel as if you are there. If a movie can make you feel all this, it has done a really good job.
Freddie Mercury, Brian May, Roger Taylor, John Deacon- They are all legends, they
really are.
The movie does have its flaws, like the timing of release of 'Fat bottomed girls' is incorrect or how Mercury looks when they composed "We will Rock You"(He did not have the mustache at that time) but all of them can be looked through.
In totality, it's an amazing movie and it beautifully combines the elements of a musical and a biopic with a small number of factual errors which are quite the norm in a biopic these days.
         "I won't be rockstar, I will be a legend" – Freddie Mercury
Indeed.