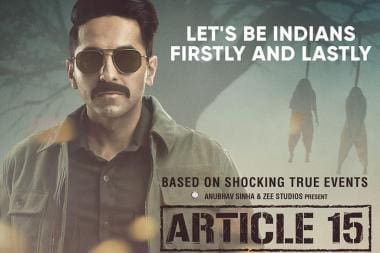 Article 15 comes under Part III in the Constitution of India, which deals with the fundamental rights of the citizens of India. It also states that the state shall not discriminate against any citizen on grounds only of caste, religion, sex, race, and place of birth. The use of the world only means that discrimination on other grounds is not prohibited.
Despite this being in the Constitution of India that all of us Indians are so proud of, this particle Article has been misinterpreted, misused and in some parts of the country, it doesn't even have any value.
This movie came as a sudden plan for me with my family members as I just got done with the hectic packing for my First Year in Manipal. Honestly, I had not heard much about the movie before and didn't really know what to expect, but by the time we left the hall, everyone present to watch the film was simply in awe of it. Apart from the excellent acting, the strong storytelling (Though it is based on actual events), the beautiful cinematography and the perfect music (Including a Bob Dylan score), the way this movie touched various sensitive issues in the country like Caste, Rape. Corruption and the blatant inequality system that exists within the same castes itself is nothing short of brilliant. I have been wholly invested in the movie from the very beginning till the end, and throughout the tenure of around 135 minutes of the film excluding the interval time, there was hardly any moment where I could feel the movie was a bit dragged on. I don't know how it will fare on the box office, but I really hope that more such movies will keep on coming along with more such real-life personalities like the one Ayushmann Khurrana has portrayed in the film.
Jai Hind.
Watch the movie in any nearby movie hall if possible or Wait for it to come to Netflix, the official streaming partner for this movie.