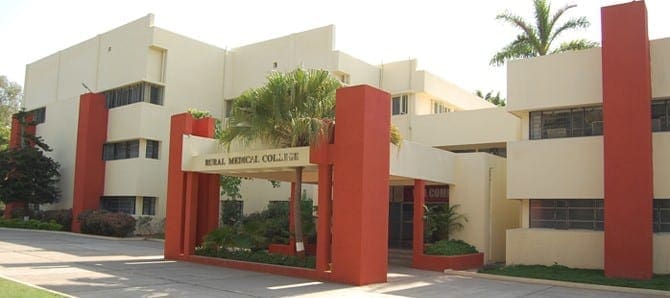 For most candidates passing out XII standard poses a variety of challenges ahead of their life. Now that the primary education is finally over, it is time to take up higher education courses. Although the choices are varied according to each person's own stream and interests, there is always a dilemma regarding which college to choose before the next session starts. There are several universities all across India which are the dream of many but the destination of few.
In such a scenario, the state most popular for Bollywood and glamour is often misunderstood, especially regarding how many institutes just beneath its shiny surface provide quality education for prospective students. Therefore, here is a list of just a few of the most promising Universities based in Maharashtra.
Bharati Vidyapeeth Deemed University(BVU) was established in 1964 in Pune. It was granted a deemed university status in 1996 by the UGC. It consists of a vast prime campus at Katraj, with three others in Balewadi, Lavale and Kothrud. Altogether, more than 30 major colleges come under the wing of BVU, including Pune College of Engineering. A number of UG, PG and PhD courses are available for prospective students, including Engineering, Dentistry, Medicine, Ayurveda, Nursing, Management, Hotel Management among several others. BVU is UGC approved and has been accredited 'A+' grade by NAAC. It is one of the few universities in India which offer several of its courses online as part of its distance-learning program through the School of Distance Education.
Courses Offered – MBA, BBA+LLB, B.Tech., BBA, B.Com., BCA, MCA, B.LI.IS., M.LI.IS, B.Pharm., Bachelor in Hotel Management and Catering, BA, MA, LLM, B.Sc., M.Sc., LLB, BA+LLB, B.Arch., M.Arch., Bachelor of Physical Education, M.Tech., M.Com., Master of Social Work, among several others.
Admissions – Bharati Vidyapeeth University carries out its own All India Common Entrance Test(AICET) each year to grant admissions to its various UG and PG courses. Admissions are done based on the performance of candidates in the test and the marks secured by the candidates in the qualifying examination.
Padmashree Dr. D.Y. Patil University is a deemed-to-be university located in Navi Mumbai. It was established in 2002 and was granted deemed status in 2005. Since its inception, the university has had more than 121 colleges under its wing. It is well renowned for its excellent placement record and campus life. It offers UG and PG admissions in various courses, many of which are also part of it Distance Education Program. Throughout the years, the University has published several research papers, mostly in the field of Medicine and Bioengineering. It is NAAC 'A' credited and is regarded by many to be one of the best private universities in Maharashtra if not the whole country.
Courses Offered – B.Tech., MBA, MBBS, BBA, BE, B.Ed., B.A.M.S., BDS, BPT, B.Sc., B.Tech.+M.Tech, LLB, B.Arch., P.B.B.Sc., M.Sc., MDS, ME, MPT, M.Tech., MA, M.Sc.+PhD, MOD, M.Arch., MD, M.S., PhD, M.Ch., LLB+BLS, M.Phil., Diploma, PG Diploma.
Admissions – Admissions to D.Y. Patil University are done on the basis of merit of applied candidates. Candidates should have cleared the minimum qualifying exam from a recognized board or university.
For admission to ME and MBA, candidates should have appeared for GATE and CMAT/CAT/MAH-CET respectively in the same year as applied.
Pravara Insititute of Medical Sciences(PIMS) is a Deemed University established in 2003 by the Ministry of Human Resource Development of the Government of India. The campus is situated in Rahata, Ahmed Nagar. The university is primarily known for courses in Medical and Dental sciences, although other courses are also offered by several colleges under its wing. The University is well renowned for its excellent infrastructure and the abundance of experienced faculty. PIMS has collaboration with several International Universities including University of Milan, Italy; University of Skovde, Sweden; and University of Greifswald, Germany. Its various departments of Medical Sciences and Biotechnology have also been credited with making significant research.
Courses Offered – MBBS, BDS, BPT, B.Sc.(Nursing), P.B.B.Sc.(Nursing), B.Sc.+M.Sc., M.Sc., MDS, MPT, MPH, PhD, MD, MS, Diploma, PG Diploma
Admissions – Admissions to UG and PG courses are done through the candidate's merit in NEET UG and PG respectively. For other courses, the university conducts its own Common Entrance Test(CET) through various centers across India.
Symbiosis International University was established as a private University by the Symbiosis Society in Pune in the year 2002. It is one of the most recognized and renowned Deemed Universities in all of India, mostly because of its robust Distance Education Program and excellent campus life. It has more than 19 colleges under its wing offering 122 courses in various disciplines of higher education. The University even offers admissions to foreign students, which constitute to more than 10% of its total alumni. Symbiosis University is approved by both the UGC and AICTE. It has also been accredited with 'A' grade by NAAC.
Courses Offered – MBA, B.Sc., B.Sc.(Hons.), P.B.B.Sc., M.Sc., PGDM, Diploma, PG Diploma, PhD, LLB, BA+LLB, BBA+LLB(Hons.), BBA +LLB, BBA, BA, B.Des., M.Des., MA, B.Tech., M.Tech.
Admissions – Admissions to UG and PG courses in Symbiosis University are offered on the basis of merit secured by the candidates in SET and SNAP examinations respectively. These exams are conducted by the University all over India every year.