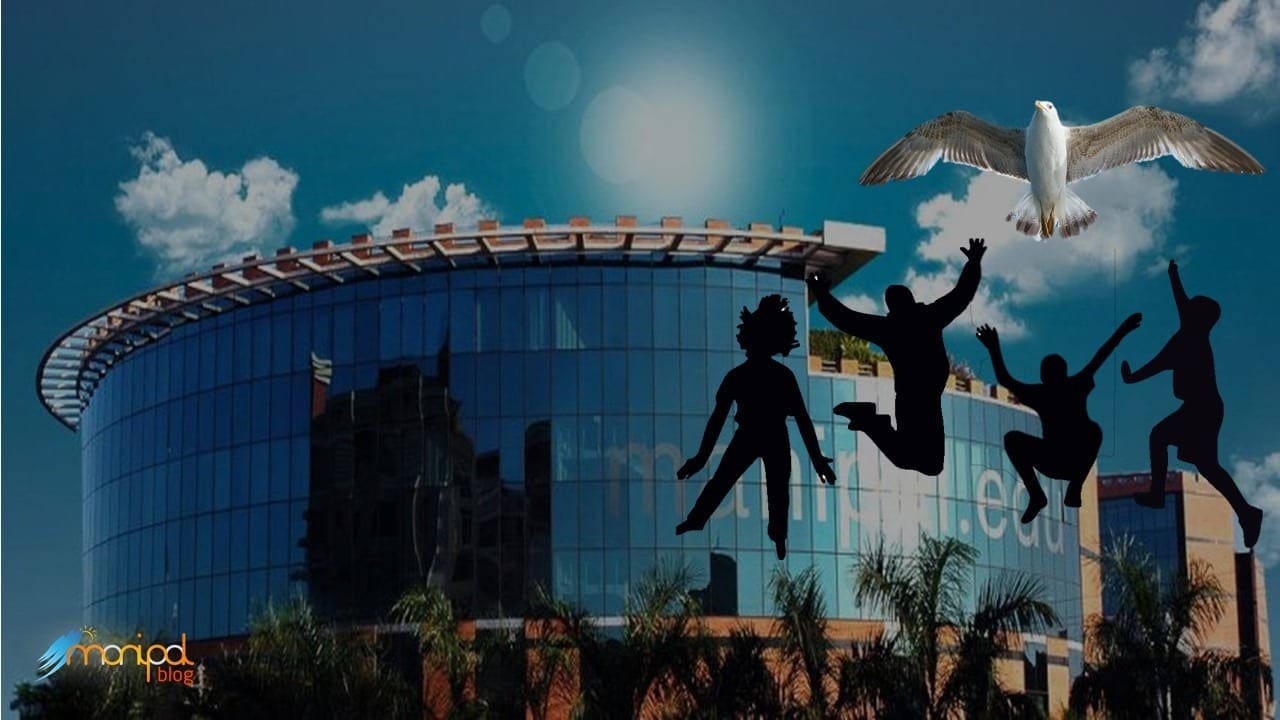 MIT Manipal: Freedom as a Culture, Acceptance as a Tradition. 
I've now spent a fortnight at this wonderful place called MIT Manipal. I came here from Hyderabad, which is a metropolitan city, with big dreams and bigger views of the world. And today, I'd like to talk about a topic that seems to be slightly controversial where my college is concerned. I want to talk about the culture here.
The only reason I used the word 'controversial' is because one of the biggest misconceptions I've heard about MIT Manipal is that "It has a very Westernized culture." Or that "There's too much freedom in that college." I disagree. There's not "too much Freedom" here. There's actually no such thing as "too much freedom". We, the students here, are teenagers growing into adults. We are people, growing from hope to courage. We are people, trying to go from ambition to success. We are people, moving on from failure to resilience. Kids, finding determination to leave a mark on this world. And I take pride in saying that MIT Manipal gives us the freedom we need to find ourselves, to nurture ourselves and bloom into better human beings, all as a part of our stay here – the true essence of Manipal.
Let me elaborate. We have a huge library for the people who are inclined towards academics. We have a platform for research, for innovation, for project work, for anything that you can dream of. For the athletically inclined, a gym, several indoor and outdoor courts, swimming pools and anything else you can think of. In a nutshell, there is simply no lack of any kind of resources here. Coming back to the cultural aspect of it, I wouldn't use the word "Westernized". I have immense respect for the institute for treating us like the young adults that we are. And isn't that what the real world is about anyway? About being able to perform, deliver and get better when no one is watching? About doing good without being expected to? About finding the fire that blazes within each one of us and using that fire to change the world?
Greatness is cultivated only when it is allowed to grow in its own way. When I talk of the reputed alumni of this institute, of course everyone has heard of Mr. Satya Nadella, Mr. Rajiv Suri and many other dignitaries. It is not a coincidence that some of the greatest leaders of the corporate world come from the same place. Leadership, Determination and Integrity are skills that are developed with time and yes, freedom. Apart from the corporate world too, just take a look at Mr. Vikas Khanna. One of the world's best chefs comes from Manipal. All these people have one thing in common: They were given the personal space and time they needed to discover themselves. I feel like this is a very unique (and lesser spoken) aspect of success.
The environment here is a relaxed, scenic and peaceful one. Freedom is a culture here, one that the students and teachers take pride in. Students here accept each other for who they are, another important skill we'll need in the rest of our lives. No one judges anyone for anything and honestly, it's a refreshing and liberating sight to see – thousands of students finding the positives in each other for the sake of friendship, love and development. Acceptance is a heartfelt tradition here and nothing could make me happier.
Personally speaking, this is why I think MAHE deserves the recently awarded "Institute of Eminence" title. We get to be ourselves here, our potential is truly unleashed. The beauty of the phenomenon of self realization on such a large scale is truly breath-taking. I urge everyone, whether a Manipalite or not, to see the importance of having the freedom to discover who you are, to focus on yourself and remove the distance between the person you want to be and the reflection you see in the mirror. Because that's where greatness comes from. It comes from inside each one of us.