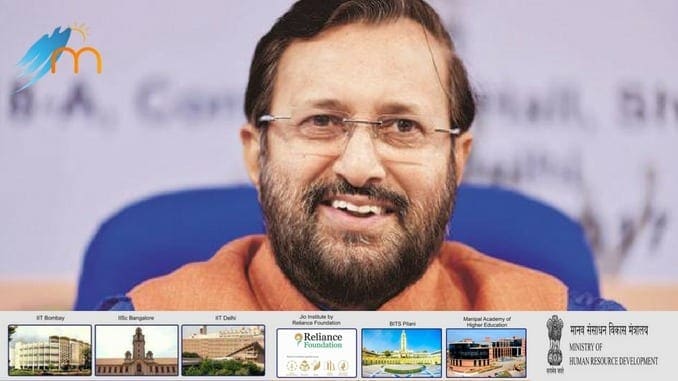 The government of India recently released a list of Institutions declaring them 'Institutes of Eminence'. This places 6 (3 public and 3 private institutions) selected deemed to be universities in a distinct category regulated differently from the others offering an increased academic autonomy and lesser restrictions from the University Grants Commission to innovate in education and research in an attempt to enable the Institutions to climb up in World Rankings. The Ministry has also declared a grant of Rs 1000 Cr for the betterment of the facilities and infrastructure of Public Universities along. This was given to promote the development and the transformation of these Institutions to top-notch Schools with world class amenities.
These institutions shall be provided with greater autonomy viz. to admit foreign students up to 30% of admitted students; to recruit foreign faculty upto 25% of faculty strength; to offer online courses upto 20% of its programmes; to enter into academic collaboration with top 500 in the world ranking Institutions without permission of UGC; free to fix and charge fees from foreign students without restriction; flexibility of course structure in terms of number of credit hours and years to take a degree; complete flexibility in fixing of curriculum and syllabus, etc.
The selected institutions namely – IIT Bombay, IIT Delhi, IISc Bangalore, BITS Pilani, MAHE Manipal, and the greenfield (proposed) Jio Institute were recently announced as IoEs by Human Resource Development Minister Prakash Javedakar, in a Press Release earlier today.
Yet another landmark quality initiative of @narendramodi Government. The #InstituteofEminence are selected by the Experts Panel & today we are releasing list of 6 universities – 3 each in public and private sector. #TransformingEducation #48MonthsOfTransformingIndia @PIB_India

— Prakash Javadekar (@PrakashJavdekar) July 9, 2018
In a recent internal email the Vice Chancellor, Dr. H Vinod Bhat, sent to the Faculty of MAHE, he stated that "This is a defining moment for MAHE, falling in the Silver Jubilee year. The responsibilities attached to this coveted status are mammoth but not insurmountable. The expectations from the country by way of Excellence, Expansion and Equity; culminating in a leadership role on the global scenario, are to be addressed from now on."
The selection Criteria for this grant contained an extensive list of parameters. The Institution should have been operating for a minimum of 15 years.  They should be multi-disciplinary or inter-disciplinary. They should have foreign-qualified faculty and a mix of Indian and foreign students and there should also be at least one teacher for every 20 students. Many public, private and deemed Universities applied for this grant but only 6 were selected
MAHE celebrates 'Institute of Eminence' tag

MAHE celebrates 'Institute of Eminence' tagManipal, July 09: The decision to pick Manipal Academy of Higher Education, Manipal as an "Institute of Eminence" was received with jubilation here in the University. From the Chancellor to the students, all waiting with baited breath for the announcement by the University Grants Commission, broke into celebrations on getting the news in a tweet from the Union HRD Minister Mr Prakash Javedekar on Monday morning. MAHE is highest ranked among private Indian universities in the QS Ranking. Indeed, a Red-Letter Day for the University.Chancellor, Dr Ramdas M Pai was extremely happy with Union HRD Ministry's decision to select Manipal Academy of Higher Education, Manipal as an Institute of Eminence. "The status thus acquired will serve as an inspiration for us to move forward with greater confidence and resolve to raise the standard of teaching and research to higher levels," he said and added,"This development is a stepping stone for our University to earn prestige of being one among the top 200 universities in the world. We will direct our efforts to achieve this distinction and live up to the expectations of the Government of India. Welcoming the move to provide the special status to our University, Pro Chancellor Dr H.S. Ballal said; "Despite India being the third largest education provider in the world, our universities are dismally placed in world rankings. I am glad that the HRD ministry has recognized our potential. It is a great moment, a great opportunity. We will grab the opportunity with both hands and work to ensure that we figure among the top 200 in the world in time to come". The Vice Chancellor, Dr H. Vinod Bhat's joy knew no bounds. He said, "This is a defining moment for MAHE, coming in its 25th year. The responsibilities attached to this coveted status are mammoth but not insurmountable. The expectations from the country by way of Excellence, Expansion and Equity; culminating in a leadership role on the global scenario, are to be addressed from now on". He added; "What is exciting for me is the autonomy – the freedom to innovate, add new branches, partnerships with overseas universities etc. It will be very beneficial for students".Even an NRI student who will be joining the MBBS course beginning August 1, 2018 was overjoyed. "I have chosen KMC Manipal for three reasons after considerable research," said Sreeya Kilambi. "The emphasis on classroom education along with hands-on experience is truly good. The health sciences library is considered to be the best and biggest in Asia, and, KMC Manipal leaping seven ranks from 11th to the fourth, was sort of decider for me. Personally I consider KMC Manipal to be the Harvard of Medical Schools in India," said Sreeya. "Delighted to learn that Manipal Academy of Higher Education has been given the status of "Institute Of Eminence". This is truly a well-deserved recognition for the outstanding calibre of higher education that the University has been imparting over the years and a tribute to the vision of its founder Dr TMA Pai," said an alumnus of the University, Mr Banmali Agrawala, President Infrastructure And Defence & Aerospace, Tata Sons Limited.Another Alumnus, Sandeep Maini, Chairman Maini Group thrilled to hear the news commented;"It's an extremely proud achievement for the University to have gained the recognition of Institution of Eminence. As an Alumnus of this prestigious institution which has shaped my life and career, it's a matter of personal pride as well. "

Posted by Manipal Academy of Higher Education on Monday, July 9, 2018
The inclusion of the Jio Institute hasn't been without controversy. This institution does not have anything that was mentioned in the selection criteria and it simply does not exist. After maintaining silence about the decision for a while, the Ministry released a Press Information Document where the Jio Institute was stated to look at being intends one of the "youngest global top 100 universities", and will "empower students to learn and excel in their chosen disciplines and empower faculty" with plans to crate a fully functional residential University Town. 
Applications for the IoE stature were invited in September 2017, with equal chance given to public, private and greenfield institutes to make their pitch. The Institute, according to N Gopalaswami, former Chief Election Commissioner and Head of the Selection Committee, is technically not an IoE yet, but has only been selected for the honor and will have to show results in three years which will then be presented to the Government. As supposedly none of the other universities seemed to have met the standards of NIRF, in a rather surprising move, the honor was bestowed on the proposed Institution.
In response to some misinformation campaign in social media regarding "Institutes of Eminence", please find herewith clarifications on commonly raised questions #InstituteofEminence pic.twitter.com/K6IB5ILpfb

— Ministry of HRD (@HRDMinistry) July 9, 2018
This tag comes with huge bragging rights for MAHE which already is the first Deemed to be Private Universities in the country, and now is one of the first Institutes of Eminence. "This would not have been possible without the efforts of the Directors and Administrators of MAHE, who have worked tirelessly to achieve this status," remarked Dr. Bhat in his communique. Here is hoping for greater success for MAHE post this achievement!