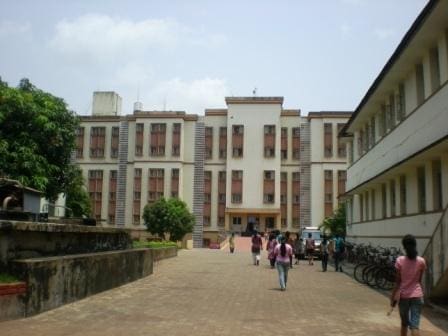 1st and 2nd block MIT Girls Hostel Review
[Non – AC, Common]
Essentially, these are the blocks for 'fucchas', 1st block is mostly taken up by MITians, pushing the 2nd block slightly out of focus. The two blocks share a mess between them, Annanya mess, which is practically unused, after the first month of the college having started, as virtually every one shifts over to 'Ashraya' mess (3rd block mess).About the 'akkas' (hostel matrons), they seem to be pretty particular about the perm time initially , which is 9 o'clock in these blocks ,but as time passes by , and the freshies get acquainted with the MIT world, library perm becomes a universal excuse to stretch up the time limit till 10:30pm easily. The blocks are mainly triple sharing with common bath, and the crowd is basically the students who don't really mind using the common bath. These blocks have washing machine facility and room maintenance is regular.
To its credit, 1st block has its own coffee stall and even 13th block students have no other option but to come here for the "sessional-coffee". Also, it has the water tower which can come handy to hide inside.
13th Block MIT Girls Hostel
13th block MIT Girls Hostel Review
[AC/Non-AC, Attached]
This is the main girls block, and also the most expensive. It's the most in-demand, amongst all the girls' hostel. Considering it's a relatively new block, it has well furnished rooms with attached baths, common rooms with LCD panels and satellite TV, and a recently renovated Gym. Washing Machines and Dryers are also provided. The campus store should totally give credit for its sales to the 13th block girls and their friends (boys) who wait outside for them. The perm time is 10:30pm here by default, and after 11, you get the late book, depending on the akka's mood. As it's mainly a senior's block, the akka's are well aware of all the excuses, and will catch you in a minute if you try to be sneaky!
Especially for all the girls in this block, there are full length mirrors provided in each of the rooms unlike any of the other girls hostels.
One of the major disadvantages of this block is its poor reception of mobile signal. To even have 2 minute conversations over cell phones, you would either have to walk outside the block or find yourself sitting at awkward places.
3rd and 4th block MIT Girls Hostel Review
[Non-AC, Common]
Equivalent to the 1st and 2nd block but with a more "chawl – ish" look, these have seniors instead of the fucchas. They share a mess between them, Ashraya mess, which practically feeds all the girls who have not joined the very recently opened Food Court mess. The akka's are relatively more lenient and are not as fast as the 13th block akkas at catching lies! Other than that these blocks don't have anything special to offer, except that if you're late, you'll only find the 3rd block gate open.
7th Block MIT Girls Hostel Review
[Non-AC, attached]
Previously a boys hostel, this block is comfortable but not overly luxurious like the newer blocks. It's a Non-A/C block with double rooms and attached bathrooms. The rooms are not very large, but on the contrary, it would be unfair to call them small.
One should be wary of the rooms on the top floor, they tend to get somewhat hot during the day time because of a false ceiling. They also attract a lot of insects. The proximity to three messes [Apoorva Mess, which serves pure vegetarian food, and Akshaya and Adithya messes, which cater the non vegetarian food lovers] adds to your convenience factor. With 15 rooms per floor, being a small block, people bond better with each other. Also, with a bit of diplomacy and politeness, it is not exceptionally difficult to find your way around rules with the most lenient akkas of all.  The corridors are spacious, and each end of the corridor is open [it has grills, of course!], which proves to be the ideal place to sit and chill with your friends. As an added advantage, the Nescafe/Maggi stall right outside this block can be a real lifesaver during exams!
11th and 12th Block MIT Girls Hostel Review
[AC/Non-AC, attached]
These twin blocks are also recently converted girls' blocks. They are slightly cut – off from the other girls' blocks but that is not really a bother with good security surrounding the blocks. The crowd here is more non-MIT and mainly consists of other colleges like MIC (Manipal Institue of Communication) and MIM (Manipal Institue of  Management). The MIT crowd here is more of freshers than seniors.
The main difference between 11th and 12th block is the fact that 12th block is A.C. and 11th block is Non-AC. Both offer single and double rooms with attached bath and good spacious architechture of the rooms and courtyards/corridors. The primary advantage of this block is its attached mess which is among the better messes of MIT hostels. This block is a bit cut-off from K.C.(5 mins walk) though bus service is very regular. Sporting grounds and swimming pool are nearby.