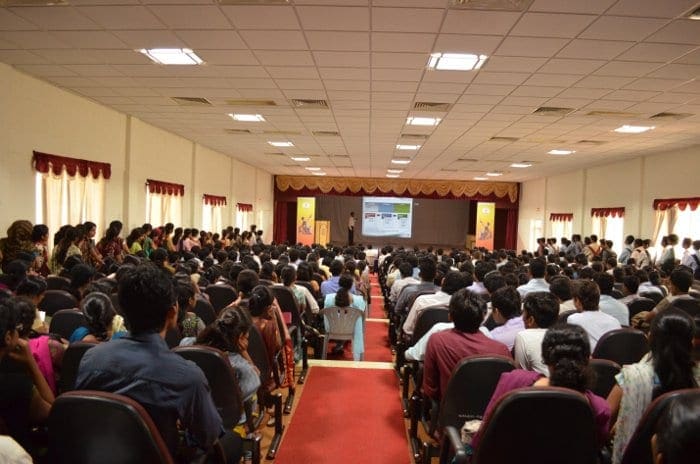 Well, you must have asked all your doubts to a scores of seniors. Still, the excitement is imminent. So, I may not add anything other than what your seniors might  have already told you. I don't think I am the right person to talk about placements. But being in the placement process for a long time and watching the process very closely by volunteering, I want to pass on the 'gyaan' achieved over a long time.
 So here are Ten Insider Tips to Succeed in Campus Placements at MIT Manipal
1. Attend the Pre-Placement Talks (PPTs).
Though I wasn't a fan of the pre-placement talks, but seriously, you have to attend these if you don't want to make a fool out of yourself at the HR stage.You might think of researching about the company the day  before on Google and skip the PPT or Some people leave it to for the break between the written exam results and the Interview!!
That never happens, we are MITians!
The companies never start on time in their PPTs (generally 1-2 hour late), but come on, you have to wait, it's you who need the job to buy that fancy car!
2. Never go on previous year statistics of placements at MIT Manipal.
At the beginning of the placement season, people might tell you that the market is down etc. Just Ignore. Manipal has a  good enough reputation and has the capability to attract the best of the companies in the worst of times. Going by my experience, you can't find a pattern in placement process. Last year if a company took 20 students, there is no necessity that it will take the same amount this time. It may go upwards or downwards depending on their demands and the quality of candidates, and mind you, this number can vary by a large number. Always have an open mind.
3. Preparation.
If you don't cross the first hurdle, don't cry over the spilt milk. Different people will suggest materials for aptitude tests. Many people shall suggest R.S. Agarwal (Reliving, the old days, huh??), which in my opinion is good, but not the best of the lot out there. The questions are  repetitive. Solving them might make you feel better but won't add anything to your knowledge.
So the key is doing different types of questions. Arun Sharma, TIME's material, Indiabix.com are quite good and reliable sources. Some companies take the questions directly from Indiabix with minor alteration. Lessons like Percentages, Profit & Loss, Time, Speed & Distance, Time & Work, Coding and Decoding will do most of the job in placement aptitude tests.
4. Always be in for a Surprise while attending placements at MIT Manipal. 
Different companies have different scheme of evaluation. Some conduct only aptitude, some IQ test, some make you play games to test varying skills needed in their respective field and how we can forget the popular 'Group Discussions'! You never know which company will throw what at you and at what stage.
5. Confine your CV to one page.
I have seen many people flaunting their 3 page CVs. Oh! Brilliant! Speaks volume about your achievements. But hey! Who got time to read that?  The interviewer has less time and more people to attend. So, don't waste his precious time. No one is interested if you were the House Captain in your school days. Put down in your CV what matters. Avoid your achievements in pre-college days, until and unless it's extraordinary. Try confining your CV to one page, and make it neat. Here is a great resource on How To write a Curriculum Vitae (CV).
6. Make sure you are good in your area of interest.
Nowadays, the interviewer asks what you are good in? For CS-IT students, they will first ask you which coding language are you  good in? They will try to grill you in your own comfort area. Be confident and don't dodge around the bush. Also,make sure that you know well what you did in your Internship. Your technical round could be entirely based on this.
7. Please appear for ADM (MRCs) companies during placements at MIT Manipal.
Some people are confident enough to get through a core company sooner or later, and they don't sit for MRCs. After the entire placement season, some of these genius are still unplaced. It's  your career. Make your decisions right. It never harms to have a back-up at the end of the day.
8. Don't be dejected if you are not selected in any ADMs.
Some of my friends who got rejected from MRCs went ahead and got placed in some big shot core companies .No kidding. People might think you are extra brilliant to survive in their company for too long. So getting selected in an MRC is no benchmark.
Have a cool head throughout the interview process. Taking extra tension won't help the cause.

9. Puzzles.
This is in trend now. For non CS-IT folks, off late many IT companies use puzzles as a criteria of evaluation. Google for 'Technical Interview puzzles' and the first three links would suffice.
10. HR Round.
You don't want to be the Tendulkar who gets out at 99 every time. So everything burns down to this round. It doesn't matter how good your technical interview was, you have to convince the HR you are the right fit for the company. Mind you, the company doesn't look for the best student but the best fit in their organization! The most  often asked questions in interview are  'Why do you want to join our company?' and  'Tell us something about yourself'. 90 % of the times you will face these questions. So be ready for these questions and don't take too much time to think.
Every senior you ask, will tell you just one thing 'It's all about your bloody day'! Sometimes you may not get through when you are at your best, and some days when you are feeling low, all dejected, the magic will happen. Have faith, a bit of patience throughout the placement semester. You might see your best buddies getting placed soon (remember that priceless 3-idiots dialogue?), but hey! didn't u pledge before leaving your home from vacation …'sab karega tera Faizal' ?  Keep calm, and give your best, I've seen some brilliant students appearing for 20 companies and still not getting placed. But they nailed it on their 21st. Remember, patience and perseverance pays. Sooner or later.
All the best.
About the Author: The author is a frequent contributor  to ManipalBlog.com, but wishes to remain anonymous. He has recently graduated from MIT, Manipal and wanted to share his experiences for the students going for Placements at MIT Manipal.