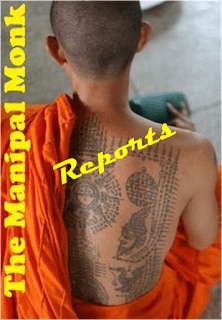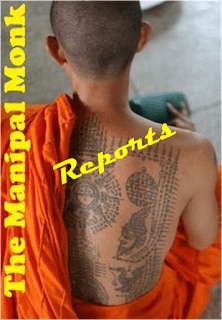 We've all experienced this –
Uncle – beta where are you studying ?
Me – uncle Manipal
Uncle – atcha atcha Sikim ke pass ?
Me – ( stunned at the ignorance ) no uncle it's in Karnataka
Uncle – ( thinking this kid is stoned ) beta Sikkim is not in karantaka..woh south India me hai…
Me – ( teri ma #$%*…%^&*…%^&* )
The above conversation posted on a facebook page and covered previously on ManipalBlog, has created quite a stir in the University offices, so much so , that the university is contemplating a movie by the same name – My name is Manipal University and I am not in Sikkim! This information was relayed to the Manipal Monk by an insider who wishes to remain anonymous.
Bryan Adams spearheaded the campaign against this common misconception with the song here I am …
Here I am…by Manipal Karnataka
here i am…this is me…manipal uni-versity
here i am…ek baar sunlo…i'm in karnataka down low
it's a small place…it's freeeeaking warm
i'm NOT manipur nor sikkim nor shillong
it's a tiny town in karanataka
it's only 4 hours from Goaaaa
here i am
(burst into chorus )
The relationship between MU and Bryan Adams has very much been a love-hate relationship. But Mr Bryan has been a solid part of their damage control strategy, releasing the above song HERE I AM.
But with regard to the song summer of '69 the students had this to say…one mans trash is another man's treasure.
The good news for Mr Adams is that on the motion of replacing Bryan Adams with Justin Beiber, MU officials questioned "replace a gay fellow with a chakka?" How insane!
MU officials than had a brainstorming session and decided to produce a bollywood movie, hoping to get some help from the people that actually run this country.
Aamir was the first actor to respond to the offer, by saying how about we make MANIPAL BELLY and shoot it in Blue Waters. The response was firstly we're not making porn, secondly we really don't need or want any disco-fighters. Oh please god please get this message…NO DISCO-FIGHTER!
Amitabh responded by saying "Sikkim hoyga tere baap" . Apparantely he was still in a funk about his previous movie not taking off. The Manipal Monk was informed that, he wanted to be part of the movie, if MU agreed to use only Binani Cement in all their future construction activities.
The university decided not to approach SRK, because he is still pissed that he was mocked in a previous post by the Monk. I think his constant association with Karan Johar may have affected his ability to take a joke. Sources suggest that he's in the process of making the most expensive joke of all time – Ra-one.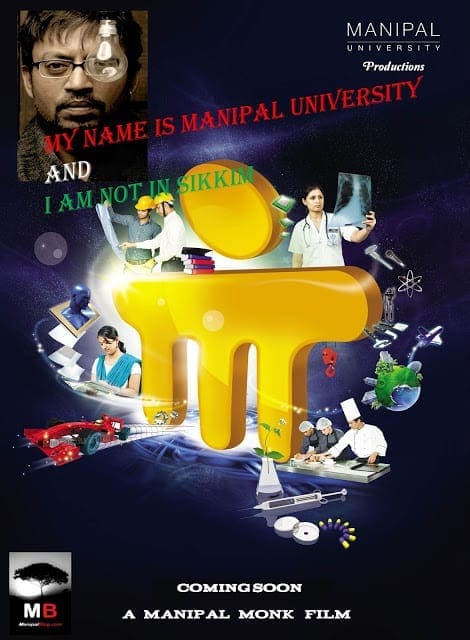 A Poster of the Upcoming movie released by the University recently to all Manipal Entrance Examinees!
Sunil Shetty, who was passing by, when the University was in talks with the Big B, immediately took up the offer! But, one look at the script and the true son of Karnataka, responded "what are you kidding me? Manipal is not is Sikkim? I will not be part of any such scam!". The only place I will buy any property will be in Mangalore!
Fast running out of options, the university approached Irrfan Khan who agreed to do the movie, provided Aishwarya Rai Bacchan was part of the movie – ke bhaiya, Sikim kuch nahin, Karnataka main sub kuch hai, samjha kya…maano ya na maano. All Ashwariya Rai had to say was world peace.
But at the end of the day it all turned out well, when the younger Bacchan came out and said, arre you don't know the difference between Manipal and Sikkim ?? Get idea ! And be proud to be Indian…
The Manipal monk can sometimes be spotted wearing a cap but that doesn't mean that he sings like shit.
He never misses but is missed and he never leaves coz he was never here to begin with.