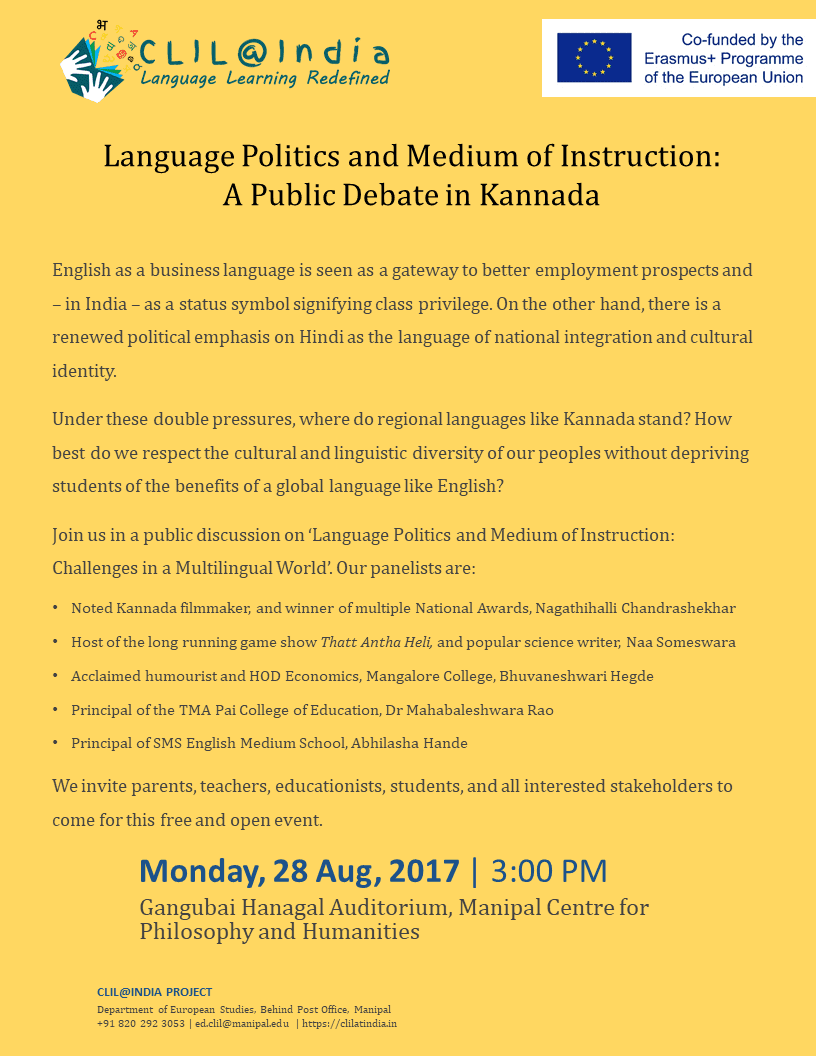 National Award-winning filmmaker Nagathihalli Chandrashekhar to be one of the panelists
The CLIL@India project, led by Manipal University, will host a public discussion on 'Language Politics and Medium of Instruction: Challenges in a Multilingual World' on 28 August at 3 PM at the Gangubai Hanagal Auditorium of the Manipal Centre for Philosophy and Humanities. The public discussion will be held in Kannada and is free and open to public.
Noted Kannada film director and actor Nagathihalli Chandrashekhar, winner of multiple National Awards, is one of the panelists for the discussion, as is Naa Someswara – host of the long running game show Thatt Antha Heli.
Speaking on the need for such a discussion, Executive Director of the project Resmi Bhaskaran said, 'The predominance of Hindi in governance and politics versus the emphasis on English due to parental aspirations and market requirements means that regional languages doubly suffer. We are failing to respect the cultural and linguistic diversity of our peoples.' The project aims to introduce the Content and Language Integrated Learning (CLIL) educational approach in India as a way to mitigate the challenges of balancing regional and business languages in schools.
The other discussion panelists are: Prof. Bhuvaneswari Hegde, Head of Department of Economics, Mangalore University College; Dr. Mahabaleshwara Rao, Principal, TMA Pai College of Education, Udupi; and Abhilasha Hande, Principal, SMS English Medium School, Udupi. The panel discussion will be moderated by Prof. Varadesh Hiregange, Director, Gandhian and Peace Studies, Manipal University.