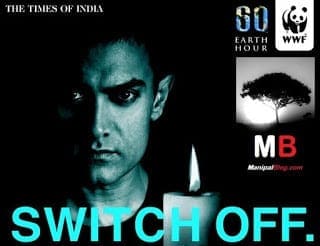 The Earth Hour is a global event organized by WWF (World Wildlife Fund) held on the last Saturday of March every year to create awareness on climate change and environment issues. With over a billion participants last year, Earth Hour 2011 promises to make a larger impact.
The main activity with regard to Earth Hour is the voluntary shutting down and unplugging non-essential lights and other electrical appliances for one hour. This in itself, conducted in a large scale makes a big difference in turn. Earth hour has been observed all over the world as light have been switched off in famous building all over the world.

Manipal University celebrates Earth Hour by making sure that all the unnecessary lights that are normally kept on for aesthetic or decorative purposes should be switched off on Saturday, March 26, 2011 from 8.30 pm to 9.30 pm. Requesting faculty, staff and students to cooperate and involve in this movement.

Together with everyone's support, Earth Hour can be the first step to making our Earth a better place to live in.