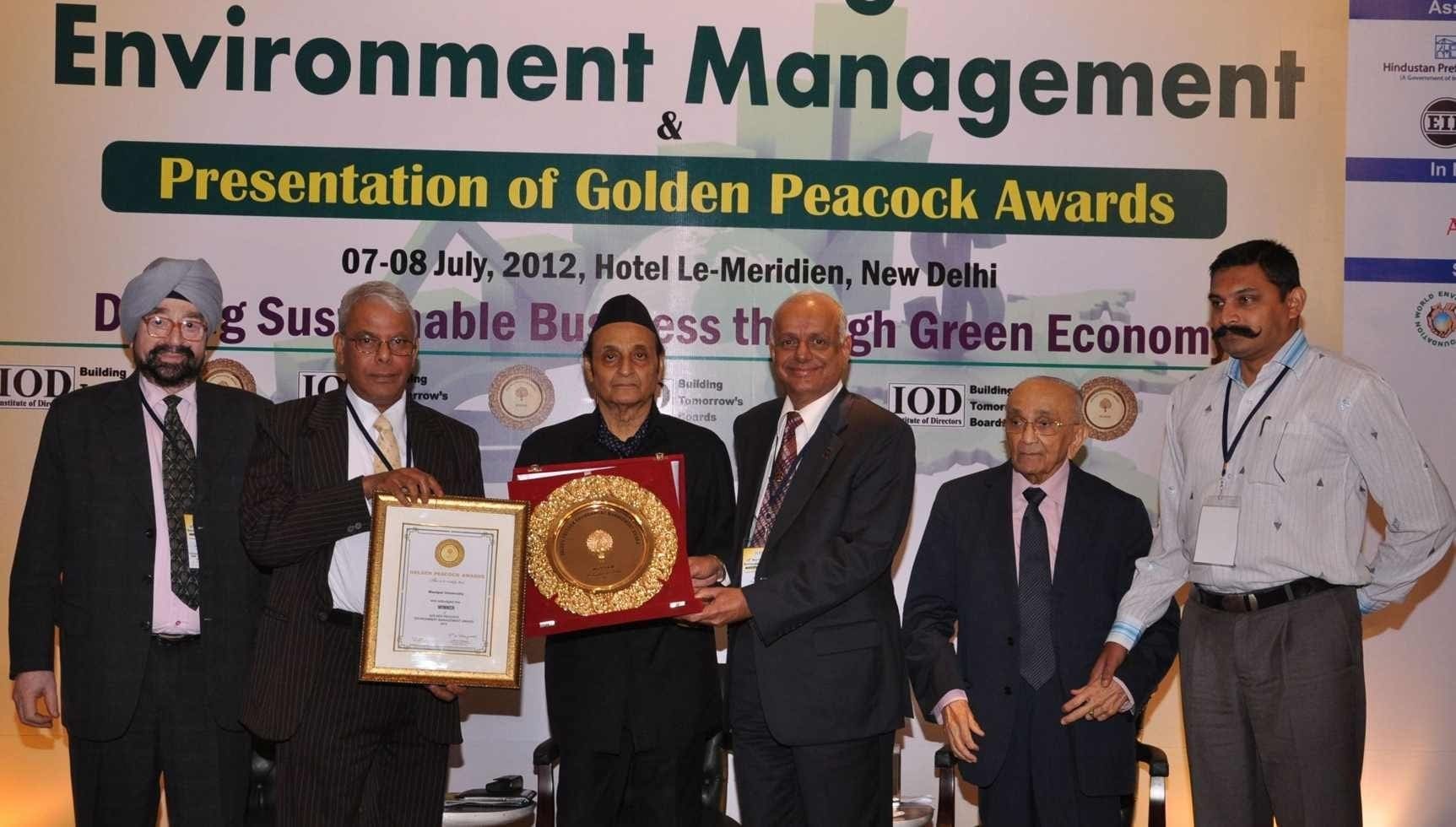 Manipal University, Manipal for the 3rd consecutive year bagged the prestigious Golden Peacock Award for Environment Management. This award is presented to organizations that have attained significant achievements in the field of Environment Management. The Golden Peacock Environment Management Award (GPEMA) instituted by the World Environment Foundation in 1998 is conferred annually. The unique feature of the World Environment Foundation (WEF), among its other aims and objectives of working in the field of conservation and development, is that it seeks to create awareness of and implement strategies for improving environmental management standards.
The Universities were assessed by an Awards jury under the chairmanship of Justice P. N. Bhagwati, former Chief Justice of India and co-chairmanship of Justice (Dr.) Arijit Pasayat, former judge, Supreme court of India. The award will be presented at a specially organized "Golden Peacock Awards Nite", during the 16th World Congress on Environment management, being held on 11th and 12th July 2014. Shri Prakash Javadekar, Honorable Minister of state for Environment and Forests, Information and Broadcasting, has been invited as the Chief Guest and to present the Golden Peacock Award.
Last year, a team led by the Director, Quality and Compliance, P.L.N.G. Rao received the award on behalf of the University along with Director, General Services and Purchase, Badri Narayanan, and Environment Executive Derrick Ian Joshua. M. Veerappa Moily, Union Minister for Petroleum and Natural Gas, gave away the awards.
Dr. Rao had at the ceremony last year said, ?Our commitment to ecological sustainability is evident from the awards we are winning and with each passing year we are improving on energy and water conservation and waste recycling? .
Pro Chancellor, Manipal University, Dr H.S.Ballal (right) and Director, General Services, Col Badri Narayanan receive the Golden Peacock award from Dr Karan Singh in 2012.
Golden Peacock Awards, instituted by Institute of Directors in 1992, are now regarded as Holy Grail of Corporate Excellence worldwide. Today Golden Peacock Awards Secretariat receives over 1,000 entries per year for various National and Global awards, from India and over 25 countries worldwide.
In January 2012, Dr. Ramdas M Pai, Chairman Manipal Education and Medical Group was awarded the Golden Peacock Lifetime Achievement Award for the Year 2011 in recognition of his immense contributions in the fields of education and healthcare.