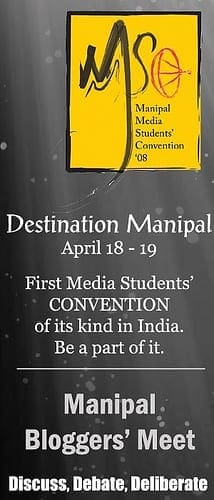 The theme of the first edition of the Convention – MMSC '08 – is 'Communication through the World Wide Web'. Participants and the guest speakers will discuss and debate about innovations like Blogging, Podcasting, Social Networking…

Manipal Bloggers' Meet
Ladies and Gentlemen, behold – The Manipal Bloggers' Meet (MBM)! The first ever Bloggers' Meet in Manipal, the MBM is open to ALL Bloggers in and around Manipal, irrespective of their background. It is also open to people who will be in Manipal on the designated date.