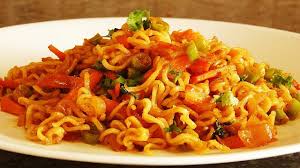 Sick of eating just plain old Maggie noodles? Well here are a few ways that people have made Maggie more interesting over the years.
Bread noodle toast
Vegetable Maggie noodles
Egg Maggie noodles
Maggie with tomato ketchup
Maggie with chicken curry masala
Maggie noodle bajya or pakoda
Maggie oopma
Maggie with Pickle
Maggie with meatballs
Fried Maggie
Maggie with any meat
Maggie with Seafood
Maggie with cheese and corn
Maggie with paneer
Raw Maggie salad
Maggie in cutlets
Maggie with sausages
Maggie with tikka Masala
Maggie with oregano
Maggie pie
Maggie soupy noodles
Raw Maggie with masala on top
Maggie spring roll
Maggie Hakka style
Maggie Chinese style
Haven't tried them yet? Go ahead, just add in any leftover from your fridge and please feel free to share your very own Maggie combinations with us!