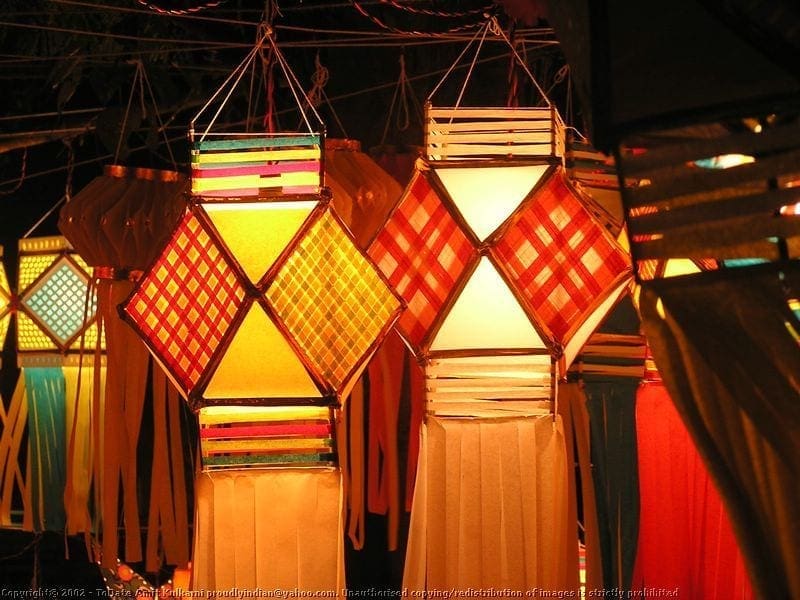 It was a fine Sunday morning when I was sitting in my living room reading the newspaper spotted with advertisements of Diwali bonanza and discount. I had just finished reading a column from the editorial when someone knocked at the door. Keeping the newspaper aside, I opened the door to see a skinny boy holding two beautiful lanterns, staring at me through his round-rimmed spectacles. The light from the bulb above the door, which I had forgotten to switch off the night before, fell straight on his face making his bright eyes more radiant.
Along with him were my neighbors Mr. Bakshi and Mrs. Rathore standing in the passage. Mr. Bakshi, as usually, he does to all the strangers, was staring at the boy with unsureness. Mrs. Rathore, on the other hand, looked more bent towards knowing his purpose of visit. His face seemed to be familiar and I guessed that the boy lived in the same locality because I had seen him waiting for his school bus a couple of times below my building. I stretched my arm towards the switch near the door to turn off the bulb when Mr. Bakshi looked at it with the same expressions as he looked at the boy.
As soon as I switched off the bulb and said "Yes?", the boy cleared his throat and started with his introduction. "Hello sir, my name is Kishore. I study in ninth grade and live in the same locality. I have decided to start selling my handmade lanterns from this year onwards for Diwali. I make these two types of designs which I have brought as samples", he said raising the two lanterns a little up. His spontaneity in speaking was a bit awkward for me and made me remember of the salesperson at the cloth shop I had gone shopping the previous day for Diwali.
"I can make you a lantern in any color of your choice. It has a convenient design to fit in a LED bulb. You can get yourself a lantern of small, medium or large size. The price will be the same for any lantern you buy, Rs 140. Please let me know if you are interested in buying them", he stopped leaving a sigh.
I realized that Mr. Rege, one of my grumpy old neighbors, had also joined the 'presentation' session. I wasn't surprised when he walked inside his house which was beside mine and straightaway closed his door screaming rudely "No, thank you". No wonder he was infamous among children from my building, who would always face Mr. Rege's denial when they asked for a contribution for conducting cultural events for festivals like Diwali. "Concentrate on your studies rather than wasting your time behind these unfruitful things", Mrs. Rathore mocked and walked away paying no heed to the poor desperate boy. Mr. Bakshi chose to walk away continuing to stare doubtfully.
I was but looking at him impressed by his marketing skills when suddenly he said "Sir, would you like to buy a lantern?". His eyes were seemingly more expectant than his words. I asked him to come inside and offered him a glass of juice and some sweets I had bought, to which he initially rejected before having me urge him to take it.
I started the conversation while pouring myself some juice in another glass. "Please sit down. Your lanterns are beautiful. If you have a good deal for me, I will get you more customers. Many people will buy your lanterns".
Kishore, his name I had known by now, replied as he sat, "No sir, I have planned to make only ten lanterns. I have my exams coming up and I must deliver all the orders by next weekend. Also, I will have to study at the same time. This is why I have limited the number to ten and fixed the price as Rs 140".
His perfectly organized plan of making and selling ten lanterns made me appreciate his business strategy.
Showing confidence in his plan I asked out of curiosity, "Well, tell me honestly, how much is your margin out of Rs 140?".
"Rs 40 on expenditure and Rs 100 is going to be my profit behind every lantern", he replied with not even a speck of hesitation.
" Great! This means that you will earn Rs 1000 after selling all your lanterns. But tell me, how did you come up with this idea?", I asked.
"I want to present my mother a saree", Kishore replied proudly.
Looking at the newspaper which rested on the teapot and one of its commercials reading "Smitha Sarees. Special Diwali Offer. Buy Any Saree At Rs 4999", I said worriedly, "That's really sweet of you Kishore. Do you think you will get a saree in Rs 1000?".
"Yes, I should, I am not buying a really fancy one. There's a sale going on in a shop nearby. I have selected a saree for my mother there. It will cost me Rs 850. I have requested the owner of the shop to reserve it for me". Kishore smiled.
"Lovely! Anyway, what you present doesn't matter actually. Your feelings behind it matter. Any mother will love whatever her child presents her. I am sure your mother will love the saree. But what made you buy your mother a gift for Diwali by earning the money yourself. Do you do it every year?", I asked him to feed my curiosity again. "No, sir. Till last year, my father used to gift my mother a saree every year for Diwali but he passed away in February. There isn't anyone who can gift mother a saree this year, so I have decided to buy her a saree" his voice squeaked as he said this.
Silence took over the room which was by then filled with a nonchalant mood. Spellbound by his reply, I found my eyes wet in no time. He gulped the last sip of the juice and walked out of the open door. His lanterns now looked even more beautiful to me as he walked away. The plate full of sweets wasn't even touched by him. That day I learned a lot from Kishore. I was pretty sure that the saree costing him Rs 850 is going to give his mother happiness worth millions.