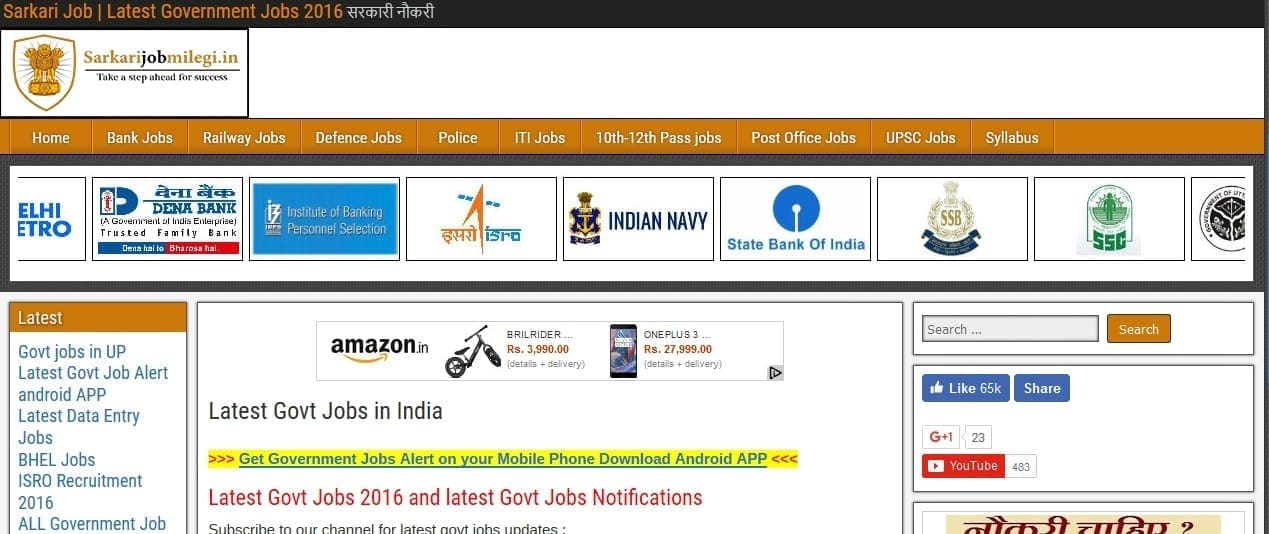 In the Indian scenario, getting into a Government job is a status symbol and given the Indian population, the government jobs are far below the number of aspirants aspiring for them. So, if you are still hooked on the traditional job search, it's time to upgrade yourself and begin utilizing the Internet as a part of hunting down your dream Job.
The Sarkari Job app can be easily downloaded on to your android smartphone and all the latest information on the latest Government jobs will be accessible from the safe confines of your home!  Do away entirely with the old-style of going through the "Employment sections" of the newspapers, which are a day late in giving out the news anyway. The internet is where you get fast information that will help you take a faster decision and stand out in the crowd.
The Facebook page for SarkariJobMilegi.in has over 65,000 followers, who are already benefiting from using this medium to get the latest information on #Sarkarinaukri! So, whether you are an engineer looking for a job after completing your course or if you are a medical graduate looking to join government service, the SarkariJobMilegi.in website is something you should subscribe to!
The site gives you many choices, depending on your aptitude, ability and areas of interest. That way you get to find the job of your dreams in the government sector and go for it. The Government press releases are updated as soon as they are release and the app will immediately send you a push notification based on your interests.
It is one of the best job-related websites showing jobs available depending on your qualification, right from those who have a simple 10+2 pass to an undergraduate or a post graduate degree. The website also has some important study material, especially of general knowledge and current affairs, that can go a long way in helping you secure the #Govtjobs of your dreams.
A one stop solution for your dream government job, SarkariJobmilegi.in is where you should look for, before you become desperate!