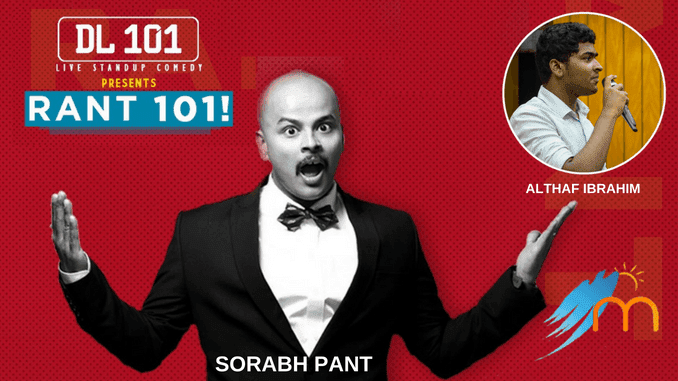 Breaking News: Travelling Pants strikes again!
Sorabh Pant:
While the scene may be different, the day may have changed, the organizers too, the show is different this time around, but, like they saying goes "Aam khaao, guthliyan kyun ginte ho", the same man is back to tickle our funnybones after his one off during Revels a couple of years ago!  So, ladies and gentlemen, grab your tickets soon because there aren't many left, Sorabh Pant is back!
All the way from his first collab with Vir Das, to branching out on his own at HQ, ranting through 250+ shows, this 'marginally unstable, over the top manic', according to his critics has acclaimed national acclaim with his carefree and bold attitude in his sets by making almost anything a joke that at is worthy of a message to society.
As far as his content goes, let's just say if you consider any and everything taboo to be spoken publicly, we have news for you! Digging and impersonating communities, his jokes carry a lot of umm… 'non-veg' content not sparing our former Director, Dr. GK either! YES, "Hello fellow creeps"
If you didn't know already, the 'Twitter Hurricane' is according to surveys one of the most talked about topics in recent times! What are you still waiting for? Go grab your tickets, Mangalore and Manipal! Sorabh is ready, DL101 is ready, Are you?
Althaf Ibrahim:
Making a sizzling debut last semester, opening for Kenny Sebastian, Althaf Ibrahim, the incumbent President of the MIT Student Council has a natural flair for Standup Comedy. Being the President puts you face to face with a lot of stupidity, dare we say sometimes from the Management and Faculty as well… And unlike most Frustrated Engineers, this Electronics Engineer has channeled it into something that leaves everyone in splits.
Very popular among the Freshers, especially after his sets in the Orientation, all the students could talk about that week was the unconventional President! His sets can be summed up as a perfect illustration of the most serious things presented in a comical way. Even otherwise, genuinely helpful and approachable student leader, Althaf is one of the best people to be around, both as a friend and a colleague.
Get your autographs when you can, because this TCS Digital Select Mallu-Mumbaikar is set to create big waves!
Nilabh Sonal & Navaneethcrshna for ManipalBlog.com