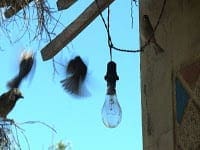 The Manipal Film Study Centre cordially invites you to the screening of the documentary film Kahankar : Ahanka (Story Maker: Story Taker) 1996 – English, 43 mins.
Date: Friday, March 04, 2011
Venue: Auditorium (A/c), Dr. T.M.A. Pai Planetarium, Manipal
Time: 6:00 pm
Film Details:
This film brings together a selection of the stories and paintings of the Warlis, and some of the narratives about `them'. To the Warlis, a community of Adivasis (indigenous peoples), who live close to Mumbai, these stories represent their `history', their world-view. All the outsiders- the Portuguese, the Marathas, the British, the `native' settlers- tried obliterating this history and wisdom.
This juxtaposition of disparate discourses is an attempt to read between the lines, as the stories themselves do.
Genre: Documentary
Director: Anjali Monteiro and KP Jayasankar
* Entry is free * Eatables are not allowed inside the auditorium * Mobile Phones are to be switched off /silenced during the screening * A brief discussion about the film will take place right after the screening *