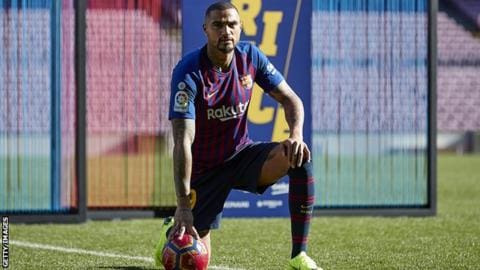 One of the major moves of this winter transfer window in the world of football has been that the Ghanian national player Kevin Prince Boateng signed for Football club Barcelona on a loan transfer, but how good this transfer actually is? Does Barca really need this midfielder? that's the question coming from Camp Nou and as FC Barcelona's manager what's the intention of Ernesto Valverde?
As for Kevin Prince Boateng, many people don't know that he has a complicated brotherhood with Germany's Jerome Boateng! Yes, actually they are brothers. They have the same father. So it started from their childhood, Kevin lived with his father in Berlin but Jerome was with his mother in the childhood. Even though they didn't stay together but they had a great love for each other. They both started their careers with German club Hertha Berlin, actually, Kevin Prince started as the more talented player than Jerome when they were teenagers. But the problem arrived when Kevin was banned from the German team after a round of party, from that day Kevin decided not to wear the German shirt again, and instead, decided to play for Ghanaian national team. But then also the two brothers were attached . The strike to their relationship was yet to come. Their relationship got worse when Kevin Prince injured German star Michael Ballack just before the world cup of 2010. German people started calling him a traitor.
As for FC Barcelona, Valverde hasn't got the solution for the Coutinho-Dembele partnership as a starter. Barcelona already has star players like Coutinho, Rakitic, Busquets, Arthur, newly joined Vidal. They also have backups like Denis Suarez, Rafinha, Samper, and, Alena. So as for Valverde's 4-3-3 defensive formation, there are already enough attacking midfielders to control the pace of the game. Considering the age of Kevin Prince, which is 31 now I don't think he can help Barca too much. But as a loan he might be a good signing like the way Paulinho shined as a Barca player, considering people never really had many expectations from him also. Kevin Prince is a really good attacking midfielder who has the 'Barcelona' style of playing, that's why Barca is paying 2 million euros to bring him at Camp Nou from Sassuolo FC. The Catalan club is really trying hard to cover the spaces of midfield after the departure of Andres Iniesta.