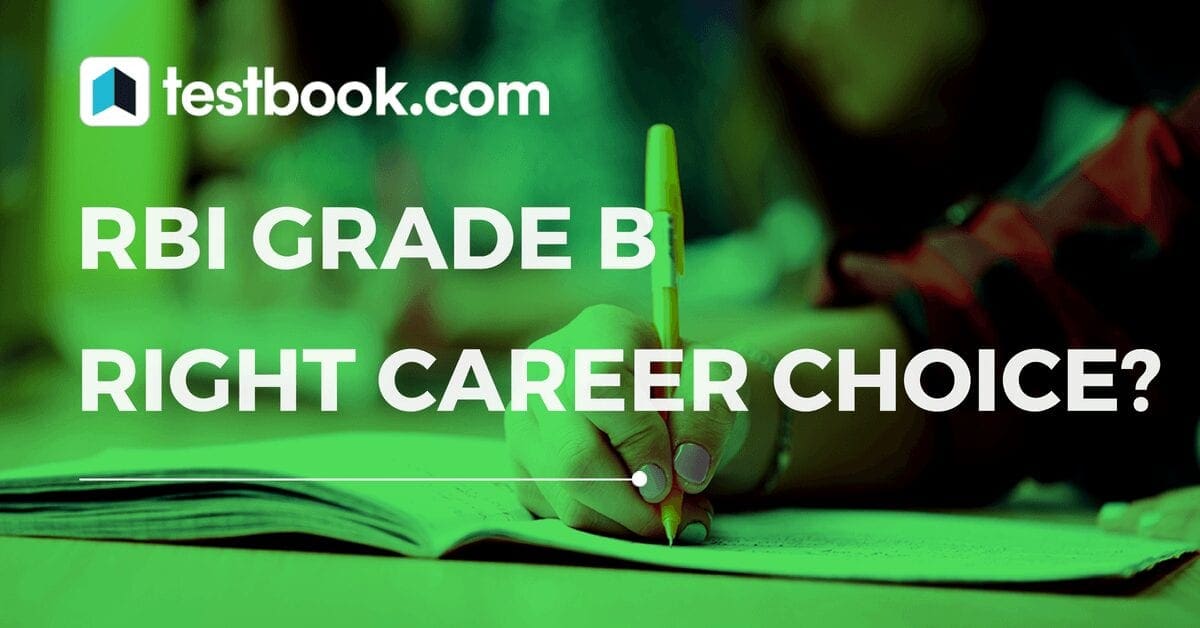 Reserve Bank of India (RBI), India's central monetary authority,  which was established on 1st April, 1935. It issues currency, manages foreign exchanges, acts as a clearing house for various other banks, etc. This implies that RBI is undoubtedly responsible for creating a financial stability in the country. Apart from the headquarters being in Mumbai, it has offices in 31 locations. By now, you might have known the importance of RBI in India.
Every year lakhs of aspirants appear for the exam to get recruited in RBI. RBI conducts exams for Grade B officers, Assistants and Office Attendants. RBI has released the recruitment notification for Grade B Exams and it's hot off the press! The online applications are in full swing and they would end on 23rd July, 2018. RBI Grade B Phase I exam would be conducted on 16th August, 2018 and Phase II exam would be conducted on 7th September, 2018. The date for Phase III (Interview) is yet to be notified by the RBI authority.
Back in 2015, RBI had tweaked the recruitment process. It had made changes in the educational qualification criteria, exam pattern, number of attempts and duration of exam. Hence, before applying for the exam, it is crucial to understand the exam pattern and syllabus thoroughly.
Below is the comparison of exam patterns – Before 2015 and current (2018)
Aspect
Before 2015
2015 till date
Educational Qualification
A  minimum of 50% marks in Bachelor's degree as well as in 10th and 12th standard exams.
General Category: A minimum of 60 % marks in Bachelor's degree as well as in 10th and 12th standard exams.

SC/ST/PWD: A minimum of 60 % marks in Bachelor's degree as well as in 10th and 12th standard exams.

Descriptive Test
Pen/Paper / Traditional Method
Online
Number of attempts
4
6
Duration of Exam
2 hours 10  minutes
2 hours
Below is the exam pattern for RBI Grade B Prelims exam:
Subject
No of Qs
Marks
Duration
General Awareness
80
80
2 Hours
English
30
30
Quantitative Aptitude
30
30
Reasoning
60
60
Total
200
200
Below is the exam pattern for RBI Grade B Mains exam:
Subject
Type
Marks
Duration
Paper I – English (Writing Skills)
Descriptive
100
90 minutes
Paper II – Economics and Social Issues
Objective
100
90 minutes
Paper III (OPTIONAL)

Finance & Management OR

Economics OR

Statistics

Objective
100
90 minutes
If the candidates qualify for both the exams, then they would be called for the interview.
RBI Grade B Officers Work Profile 
Being an Officer in the Reserve Bank of India is indeed a privilege. You will be working with the intelligent minds and will be handling our country's finances directly! Therefore, read below to know about the work profile of a RBI Grade B Officer.
You should be well informed about the economic state of the country in terms of inflation rate, deflation, GDP growth, GNP, etc.
Design Guidelines for various PSB's (Public Sector Banks)
You will also be responsible to manage certain Government & Central Bank accounts.
Your job will be to make sure that the circulation of coins & currencies in the system works smoothly and properly.
RBI Grade B Officer Salary & Benefits
Now that you know about the the RBI Grade B Officer Work Profile, you will be more interested to know the salary. Read to know about RBI Grade B Officers Salary, Perks & other Allowances.
The revised Salary Structure is as Rs. 35150/- – 62400/-.
Basic Pay – Rs. 35,150/- p.m. along with other allowances.
Gross Pay ~ Rs. 75,831/- p.m.
Along with the substantial salary, you will also get a number of perks and allowances, read about them below!
After appointment you will reside in the RBI Residence.
You will also be given a Fuel Allowance ~150 lts.
Your Annual Medical Allowance will be ~ Rs. 4,500/- on declaration.
Monthly Maid Allowance ~ Rs. 3000/-
RBI provides Food/Grocery Sodexo Coupons to its employees ~ Rs. 2000/-
LTC/LFC Tour Allowance ~ every 2 years.
Loans are cheaper for employees of the RBI.
RBI Grade B Officer Working Hours 
RBI Grade B Officer's work is of great responsibility. Therefore, the officers get work hours that are not stressful.
You will be on Probation for 2 years before being appointed.
A RBI Grade B Officer works for 5 days in a week.
It is a typical of a 9 to 5 job.
RBI Grade B Officer Promotion Prospects 
Working with RBI is an enriching experience in itself. Read to know about your future career progression with RBI.
If you join young, you are most likely to reach to the position of Deputy Governor until you retire!
There are a lot of Departmental Exams within RBI for Officers to speed up their Promotions.
With so much experience in the RBI, even if you do not continue with the RBI, lots of other banks will willingly invite you to fill their Executive positions & also pay you hefty salaries!
Now that you know in detail about RBI Grade B Officer Work, Salary, Benefits & Career Graph, there's no doubt to grab this career opportunity and make it worth.
You can kick-start your exam preparation by downloading India's no 1 test series app.
Wishing you all the success who are in the race!
About the Author: Mithila Kotibhaskar is a Digital Marketing Executive working at Testbook.com. Though a Computer Engineer by qualification, her passion flows through various Digital Marketing verticals – Content Writing, SEO, and Google Adwords, to name a few.  Being always curious to learn new things, she tries to chase perfection in everything she attempts. Creating singing videos on YouTube channel and playing musical instruments like harmonium and musical keyboard is her favorite pastime. Being a health freak, she is addicted to Zumba classes.