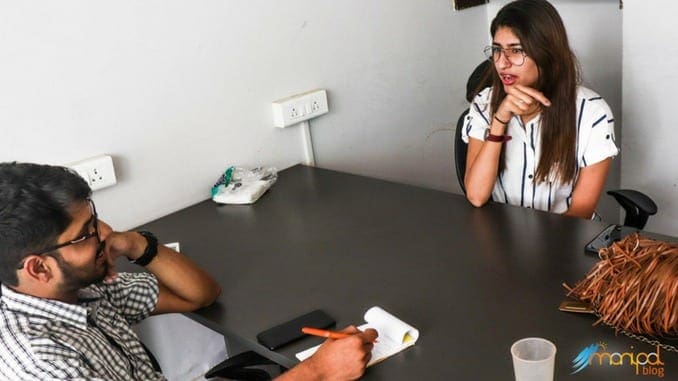 As you seat yourself in one of the extravagant farmhouses in Vasant Kunj, a posh, upmarket locality in South Delhi, you are bound to feel a tad bit conscious. Just as you make yourself a bit used to these new surroundings, the door swings open, leaving you spellbound, and you barely manage not to leave your mouth open. Such is the charm and elegance of Shreya Mehta. With over 70 videos shot for the YouTube channel, The Timeliners and debuting in Bollywood in Vipul Amrutlal Shah's Namastey England, Shreya is one of the most recognisable faces on YouTube, with 82,000 followers on Instagram 
To start things off, we really want to know, who really Shreya Mehta is? I mean, everyone knows you as TheFilmyKudi (Shreya is known across her social media handles by this name) when they see your stories on Instagram and Snapchat. But, who really is the actual you?
Whatever I'm posting on Instagram or other social media, is 80% of me. I don't really use any filters, if I'm dancing, eating, or laughing like a pig. I just put whatever I am, or doing on my Instagram stories, and I think that's the real me. People are able to connect to my Instagram account because of the content that I post, which is very real stuff. So that's me, on social media. Not fake.
What does a typical Shreya Mehta day look like? For someone of your stature, is your day packed with shoots and sets, is there a lot of running around to do?
My typical day? Well, from Monday to Saturday, I come to this office. I chill, meet my co-workers, and if there's an interesting idea in my mind, I make mimes for the channel. If we're shooting a video, a proper video for The Timeliners, I'm shooting with them for 12 hours. (Yes, you read that right. We somehow managed not to gasp in-front of her!) Once or twice a week, we're shooting a video, else I jam in this office, I sit through narrations, and I read the scripts. I have a very normal lifestyle, I don't tend to party much, I sit at home with my nani (The Hindi word for maternal grandmother) and spend some time with her.
So, how did this whole journey from being Shreya Mehta to TheFilmyKudi began? What made you join The Timeliners and be on YouTube?
Well, I was the first person to join when TVF (TheViralFever) opened its office in Delhi. I used to contact people in TVF, the actors, the CEO when I was in college that, "I wanna work with you guys." I used to make sure that they did see my acting; I used to post all my videos online, so that they knew that there is someone by the name of Shreya Mehta in Delhi. I did an internship with TVF in my fourth year of college, I was in Pearl Academy. Fast forward three years, from a very small basement, I have reached here. It's been a really great journey so far.
As far as why did I join The Timeliners? I was never really interested in academics. But my parents insisted that I should do my graduation and stuff. I remember I used to sit in the last bench in my classes to watch TVF videos; I was and am still a huge fan of TVF. That is when I made up my mind; this is what I wanna do, to entertain people. The best part is that I don't really have to struggle, to go to Mumbai for auditions, this is something very real.
You have worked in Bollywood now, and your film is all set to release now. How has Bollywood been different from working on YouTube? How was it working with the ensemble cast? (Arjun Kapoor and Parineeti Chopra play the lead roles in the film.)
I have just worked in one film right now, so it's pretty hard to say! I'm not really in the whole film; my role is just for thirty minutes. I have been doing content for YouTube for a really long time now, and I had not gone to Mumbai yet for auditions. Getting a call for a role in an A- list movie, with A- list actors and an A-list director was certainly a huge deal for me. It was a really amazing experience for me, I learnt a lot, especially from the Director. Frankly, it doesn't really matter to me now even if two of my 20 scenes shot in Punjab make through the final cut.
For me, the more exciting thing was to work with the Director of this film, Vipul sir. In fact, I only accepted the role because of the fact that this movie is a sequel to Namaste London, an evergreen movie. Vipul sir did a crazy job in that film. I had more of a professional relationship with the cast, we used to come on the sets and do our thing. It's not that we partied and stuff, but yeah, it was nice working with them.
You have been this far now, and have achieved quite a bit. We all know that this profession isn't a bed of roses; there must have been some really tough times. So, what has been the real struggle to reach to this summit?
My real struggle? Touchwood, I didn't struggle professionally throughout my career, because I had the talent, I had the energy; I had the vibe, the passion, everything it took being an actor. But, I had to struggle a lot personally. I come from a very conservative Punjabi family, I'm the first woman in my family to work. They still don't support this, I kind of had to leave my house, it's been four months now. They gave me an ultimatum to choose, them or my career, and I chose the latter. Even though they have given birth to me and raised me as their own, acting is like my baby, and I can't stand, even from them, someone telling me how to raise the child.

This was a time during the entirety of the interview that we felt the deep passion Shreya possessed for acting, her eyes lit up as she boldly talked about the tumultuous relationship with her family, what it took being her. The commitment and dedication for her profession just blossomed out of her. Her eyes also gleamed of this sacrifice she made, and we couldn't have done justice to this interview by not mentioning this
Being in this profession for so quite some time now, you must be well aware of the fact that there is a lot of hate out there. How do you take on all the hate?
Oh, I give it back to them! I can't take the hate, I mean, I'm not saying that I am completely dismissive about it, but there are a lot of creeps and lowlifes out there, especially on Instagram, who post comments completely unrelated to my work, about who I am as a person, most even go to the extent of committing body shame. I can't stand this at all, I immediately block and report the offender, and request my followers to do the same, till the time the account is disabled, so as to send out a really strong message out there to others who thought of doing something on the same lines. On YouTube, I don't really do much but I just can't stand any personal remarks.
Namastey England is all set for a worldwide release on 19 October, 2018. ManipalBlog wishes Shreya best of luck for her future projects.