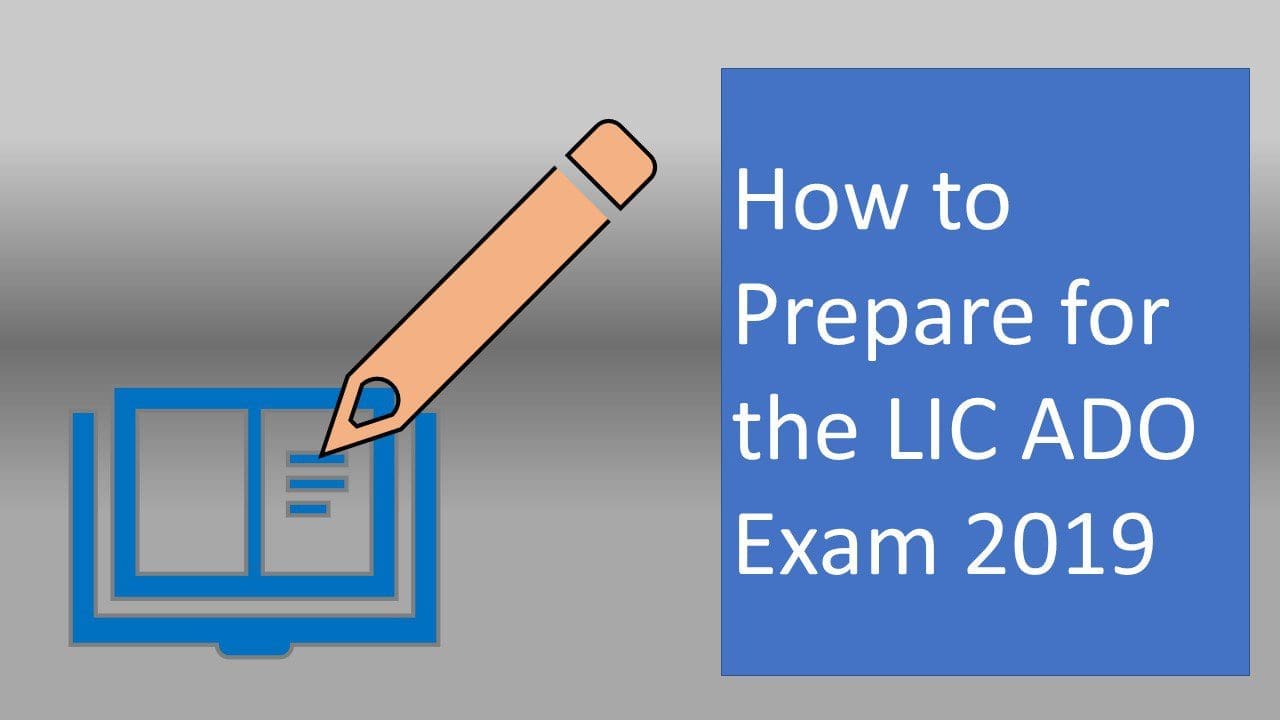 The official notification of the LIC ADO recruitment delivers candidates with a great opportunity of grabbing the job profiles under the Government Banking Insurance Sector. However, with the increasing competition for the competitive exam every year, you need to prepare well for this recruitment exam considering numerous parameters to crack the exam in the first attempt itself.
Cracking the LIC ADO exam is not a daunting task if you plan your preparation with the right approach and with the correct measures. Further, with the help of proper and well-structured study plan scoring good marks in the same will become easy for you. To assist you in clearing this LIC ADO exam, we are aiming to shed light on the crucial parameters that you should focus towards to score higher marks in the exam.
Best Preparation Tips for LIC ADO Exam 2019
Life Insurance Corporation of India (LIC) has recently released the notification for LIC ADO 2019 recruitment exam. Having 8500+ vacancies for the selection and appointment of candidates as Apprentice Development Officer (ADO) under various Zones. The job profile provides an excellent opportunity for those who want to make their career in the Insurance Sector.
The online registration for the same has started, and the Preliminary exam is scheduled to be held on 6th and 13th July 2019. And the Mains exam for LIC ADO will be held on 10th August 2019. Thus, to help you ace the exam in one go, let's look at the different parameters that we should consider before starting with our preparation for the exam.
Let's start with exam pattern of LIC ADO Exam.
Exam Pattern- Before commencing your preparation for this recruitment exam, it is vital to get acquainted with the exam pattern of the LIC ADO. This helps you in knowing the number of subjects, type of questions, and time duration for each subject. Take a look at the exam pattern of the LIC ADO below:
LIC ADO Prelims- Exam Pattern
| Section | No. of Ques | Maximum Marks | Exam Duration |
| --- | --- | --- | --- |
| Reasoning Ability | 35 | 35 | 20 mins |
| Numerical Ability | 35 | 35 | 20 mins |
| English | 30 | 30** | 20 mins |
| TOTAL | 100 | 100 | 1 hour |
LIC ADO Mains Exam
Section
No. of Ques
Maximum Marks
Exam Duration
Reasoning Ability & Numerical Ability
50
50
General Knowledge, vocabulary, Current
Affairs, English Language with Special
Emphasis on Grammar
50
50
Insurance and Financial Marketing
Awareness with special emphasis on
knowledge of Life Insurance and Financial
Sector
50
50
TOTAL
100
100
2 hours
LIC ADO Syllabus-
After knowing the exam pattern of the exam, it is important to know the syllabus of the exam and then the important topics of the exam. The LIC ADO syllabus for the Prelims exam is mentioned below:
Quantitative Aptitude- The complete syllabus of the subject is as follows:
Simplification
Profit and loss
Approximation
Number Series
Time and work
Mathematical Inequality
Data interpretation
Average
Data Sufficiency
Quadratic Equation
Speed, distance and time
Simple and compound interest
Mixture and Allegation
Reasoning Ability- Check below the syllabus of the Reasoning section below:
Puzzles & Seating Arrangement
Data Sufficiency
Order and Ranking
Syllogism
Input-Output
Sentence Improvement
Blood Relations
Direction Sense
Sentence Connectors
Coding Decoding
Alphanumeric Series
Odd one out
Verbal Reasoning
Inequality
English Language
Cloze Test
Error Spotting
Fillers
Theme based questions
Parajumbles
Cloze Test
Reading comprehension
Sentence rearrangement
General Knowledge & Current Affairs– The complete curriculum of the GK section is as:
Important Days
National and International Organization
National/International Affair
Books and Author
Awards and Honours
Summits & Conferences
Agreements
Sports News
Schemes, Committees
Obituaries
Appointments/Resignations
 Insurance Awareness
Insurance History
 Schemes and Policies of Life Insurance Corporation
Terms related to Insurance Sector
Taglines and Chairman of Insurance Companies
Mergers and acquisitions
All recent changes in Insurance Sector
Important Tips for Each Section
To give your preparation for LIC ADO a sure-shot success, you need to adopt some important tips and strategies for each section of the exam. Below you can check these important tips for each section which are crafted by experts.
Reasoning Ability – Do not expect an easy level of questions from Puzzles or Seating Arrangement topics. Thus, you need to practice a lot of questions from the topics like Inequality, Syllogism, Miscellaneous as these are least time-consuming, so practice consistently to fetch good marks. Make your concepts clear before starting with the questions. Try to solve the problems by making diagrams.
Quantitative Aptitude – Scoring section if you try to avoid calculations mistakes. Do proper practice of important and scoring topics like Simplification, Data Interpretation, Number Series, Quadratic Equation. Practice topics like Partnership, Time & Work, Age-based questions to improve your score in this section. Make your foundation strong to solve the questions quickly and easily.
General Awareness- Read newspapers every day. Know the day to day happenings and current affairs. It is suggested to practice the questions as much as you can. Learn the important terms and definitions related to the Insurance sector.
Bonus Tips to Crack LIC ADO Exam
Any kind of shortcut in the Reasoning Ability section will not be going to help you.
Understand the concepts of the topic correctly before jumping to solve the questions.
Must focus on the theoretical part and practice more questions with short tricks in the Maths section.
Make a habit of revision regularly.
Practice the questions with accuracy and speed to score good marks.
Go for a realistic timetable rather making hard and fast rules for your preparation.
Do not forget the importance of notes and flashcards as that is the perfect timesaver for you.
Apart from these important tips, do not forget to practice with LIC ADO mock test and previous year question papers and mock tests. Further, invest in some quality of books which help you in making your base strong and offer you a platform of solving numerous questions.
Do regular practice by managing your time correctly and attempt enough questions from each section. You must start your preparation, keeping in mind the exam pattern and the syllabus of the LIC ADO exam.
For more information or any kind of query regarding the preparation of LIC ADO Exam 2019, you can drop your comment in the comment section below.