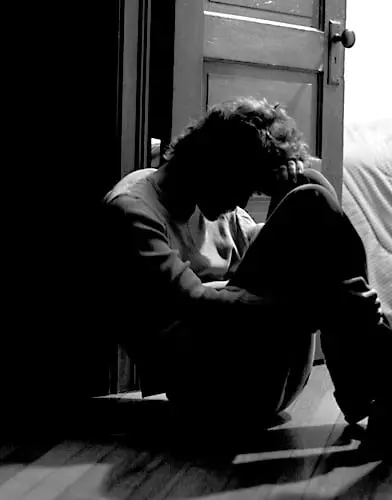 Lying on my full-sized, secondhand bed for six days consistently, I was defeated by my lonesome apartment. Whenever I go home, the only sound I hear is my breathing and the only warmth I feel is my breath. I think that the atmosphere of my home is so deadly quiet and cold like an underground cave. I fell like a vampire. But don't get me wrong, I don't bite human beings or drink their blood. I meant that I was so lonesome that I didn't feel like I had a soul. I did not even want to eat, and I was hurting myself by burning out my hope and my health.
The darkness and the utter stillness swallowed up my mind. I needed my family, my mom and my sister. Where were they?
I know they are in Delhi.  I really wanted to talk with them, hug them and share with them. For God's sake, my finals were coming and all the pressure overwhelmed me. But I felt no wish to fight back. I was physically and mentally frail.
I gave up doing everything I needed to do. I even stopped going to school. My despair of becoming a successful, independent physician as well as a university graduate made me become a reality fugitive. I tell myself that the more despondent I become, the more easily my hope will be destroyed. Then I ask myself, "Vishaal, do you really want at fail your education? Do you really want to be a reality fugitive?"
My answer is, that if I drop my classes now, I will regret it. I would be filled with remorse for being a quitter. Besides, I remember my High School teacher once telling me: "Fly the plane, you'll finish class just fine." Her encouragement is always in my mind.
Hence, here I am in school again and I want to try to resolve the hardship in life. I believe that as humans in this world, we are born with the ability to overcome our difficulties and sadness. The question is, whether we want to learn and try to use our power to achieve a balanced life. Struggling in our lives with all the changes that are happening, we know that we are not only struggling with those changes on the intellectual side, but also our emotional reactions to it. I believe emotional intelligence is responsible for the determination of success.
From now on, I will try my best to be an independent and flexible person by learning how to handle stress well instead of being depressed and feeling that the world owes me. I think if we can be brave enough to give up our own lives, we can be stalwart enough to overcome our ordeals by learning or practicing our self-awareness, stress tolerance.
I completed my Bacherlors degree in Medicine and Surgery (MBBS) in the year 2002-2003. During the period, I used to regularly maintain a daily diary, the contents of which I cherish to this day. This is an excerpt from my diary, somewhere during my 4th year at Jawahar Lal Nehru Medical College (JNMC), Belgaum. It was an especially tough period for me when I was addicted to the new and wonderful phenomenon that was sweeping the country – The Internet and my poison was the Internet Chess Club. I used to spend days at the internet cafe and landed in a very heavy debt which took almost a year and a half to repay. Thanks to the support of my good friends and the girl who would be my wife, I was able to get back on my feet.