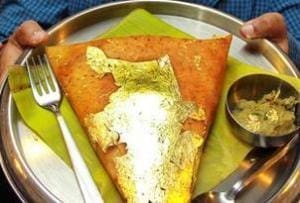 MASALA DOSA – From a common man's perspective it is a plain dosa with a bhaaji consisting of  potato, onions etc. served inside it. But the Raj Bhog restaurant of Bengaluru offers dosas covered in a coating of pure gold.
Yes, you heard it right. Gold Plated MASALA DOSA! 🙂 The luxury comes at a price. Each gold dosa costs the hefty sum of 1,011 rupees.
The buyer of it, will be gulping in about 1mg of gold which will be spread over the dosa as a finishing touch-up just like the way butter is spread over a hot parota, which will be in form of a pure gold foil.
The point is – can't the food courts and messes of MANIPAL UNIVERSITY provide the same for the future engineers, doctors, physiotherapists etc.,  after having taken a hefty sum of admission every year? 😉 A small amount of metal intake is always much needed to the body say the doctors. So why not MANIPAL UNIVERSITY do this small thing for their own students? 🙂
After all, removing a bucket of water from the mighty ocean won't affect much, does it? 😉
Cheers
Muki