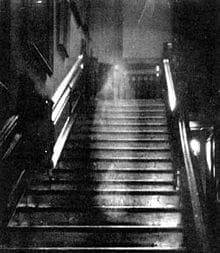 Once on my way to the sixth floor's lecture hall, I felt as if someone or something is following me. Being one of the 'Supernatural' TV Series fan, I decided not to turn around, else that creature can get into me, rip my heart off and eat it away. Yes! I was being skeptical and insane but my tiny blood-pump didn't allow me to turn around either. It was 3 PM, raining outside, a bit dark on that back-stairs with no one to be seen around. 'Coz classes for all the batches start at 2 PM sharp, without any delay.
I moved with easy, noiseless steps (This time without my ear-phones!). I hurried my steps as I was getting late for my second lecture. The pace and that noise my sandal made got intensified and amplified and could be heard like an echo, even when I stopped walking near the turn. A crease of fear got marked onto my fore-head. I started muttering 'Hanuman Chalisa', which I think all of us would have done at some point or the other when we had thought our lives would be taken away by that cruel, ruthless monster coming with a dagger in his hand. Going according to the Hindu Mythology, it should have worked then; but alas! It didn't.
Now when I started moving up the stairs, those steps came even closer with full rage. With umbrella in one hand and a bag in the other, I turned around in order to beat that demon with my umbrella. In the back of the mind I also thought it might be a student or a professor or even the Dean by any chance; who I'm planning to beat so hard this time. And a 180 degrees quick turn with not even a single ant around. No ways! What was that by the way? I was shocked and relaxed at the same time.
Again I started moving quickly, this time with caution and courage. I reached fifth floor finally from where I just had few more steps and my class would be at a hand distance. The corridor of fifth floor by itself is very dull and dark and even the imagination of a ghost, made me shiver. Yes this happened to me for the first time. I'm not a kind of person who gets scared by stupid, imaginary things. But this time the feeling and the experience were very different. As I walked forward, I could now hear some faint voices. I assumed it to be someone talking way down the first or second floor. But no, it wasn't. The volume of those voices increased and now I could faintly understand those words. "Ankita! Don't run away from me. Please help! I'm trapped on the eighth floor." Listening to that, I started running like anything and reached the class breathlessly, full drenched in my own fear and surprise. Obviously there was no one around me to utter those words and even no eighth floor in our college building!
Disclaimer: All the facts in this article are made up! But you already knew that didn't you? 😉 🙂 
Send in your reviews, articles, stories on [email protected] or [email protected].