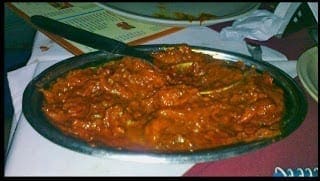 I know this is supposed to be the Gastronomical G-Spots Section of Manipalblog.com on Foody Friday's! but this deserves a mention. As much as I would always like to talk about the good places here, I feel the readers should know where NOT to go just as much as where TO go.
NAME: SPOONS / SANGEETH / FISH MAX / HOTEL SAUKAR / SILVER BOWL
Where: After New Downtown on the same road before you turn into the TAPMI Campus road.
I'm not kidding there are five names for the restaurant outside. Pick one I guess. You can sit downstairs or upstairs in the area where there is a live Karaoke Station. Had some dude singing horribly out of tune but what ever.
We went there as it was close to where we were and had tried the food earlier an was decent as some point in the past.
Ordered: Butter Chicken / Manchow Soup / Achari Kabab / Roti / Nan / Full Chicken BBQ /
Review:
Full Chicken BBQ : Had barely 4 pieces made to look like 8 by cutting them in quarters and halves. Came cold and was disgustingly over cooked and hard.
Achari Kabab: 6 MINUTE not even bite sizes pieces of Kabab. Again horrendously overcooked. 6 Pieces.
Roti / Naan / Not much to go wrong there but they still managed by bringing everything out cold.
Manchow Soup: No point even mentioning how pathetic this was.
Now this brings us to the Butter Chicken: We ordered a FULL plate. Rs 185 or something for it. Got something that looked close to road kill.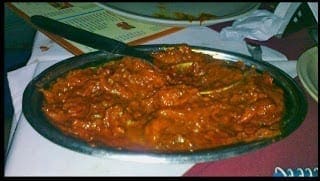 Was insignificant in quantity to a level that we counted the :Full" Chicken Pieces in it and found about 8 infant bite size pieces. We did order butter chicken…it did come..with no butter in it. No chicken in it. Tons of onions and some sauce the reminded me of lemon and sugar. Disgusting. They brought "extra" chicken for us to compensate which was 90% sauce 10 % Shredded pieces. I'll assume the stuff that they find at the bottom of the grill.
Will I ever go there again? Absolutely not.
Will I ever recommend the place? Are you kidding me? A road side stall would be a better option.
Points? Something / anything in the negatives. Giving a zero would make it something.
K.S.