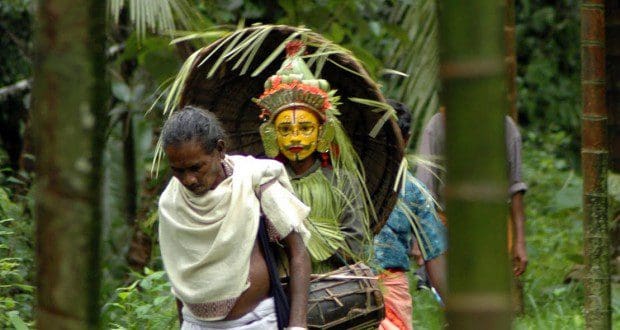 Aati festival in Mangalore is one of the regional festivals of the territory. The Aati festival of Mangalore is celebrated by the Nalke community of Mangalore as a reverence to Kalanja, a minor spirit.
Aati Kalanja Festival is folk dance performed ritualistically by the Nalke tribe in Mangalore. This is an age old ritual followed during the Aati month (Aashada Masa, the Hindu month) somewhere during July – August. The dance ritual is performed to ward off evil forces and black magic. Kalanja is the spirit who keeps away the dangers in the form of dance; he would exorcise the evil spirits that shod the house.
The practice may have significance of the season. The month of Aati, is the rainy season, where in there is heavy down pour, with rivers and streams overflowing, creating landslides and swamps which are haven for parasites, harmful insects and diseases. Hence when the season is blue the Kalanja provides folk medicine and relief from sorcery and black magic.
The tribal men dress in peculiar attire, the skirt made of coconut palm and banana leaf, a head gear made of coconut palm resembling a cobra hood. The faces are painted with bright colours, sporting a red tooth brush like mustache, giving him a scary look. He visits each house hold and performs ritual to ward off evils to the family and their cattle. In turn they present alms such as paddy, rice, coconut, turmeric, or any other farm produce.
Over the centuries, the Aati Kalanja is slowly slipping into oblivion. One can only find this practice in remote places of Dakshina Kannada.