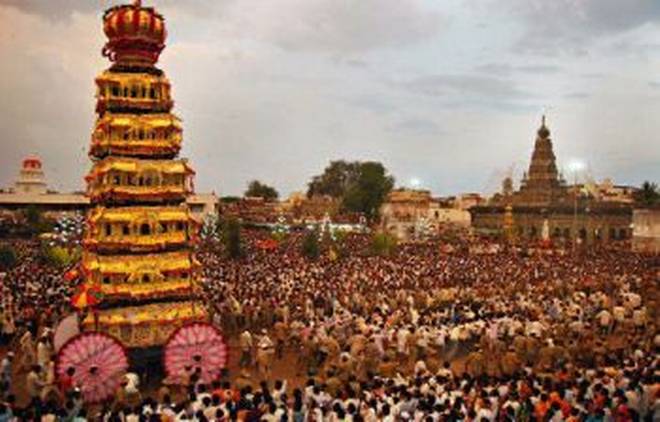 The Jatras are normally celebrated annually, however the Jatre of Saranabasaveshvara of Gulbarga is celebrated twice a year, during Rangapanchami (March) and Sravana (August). Some of the jatras are celebrated once in three, seven or twelve years. Examples are the jatra of Cakkere, Pataladamma and Mudigere Dandina Mari. Each jatre has traditionally a fixed place for its celebration.
These celebrations may last for one or fifteen days or even longer. Divine personages, holy men, Saranas and Sivayogis are also honoured with jatras as in the case of Mantesvami, Madesvara, Sarana-basaveshvara, Vijayamahanteshvara etc. Most of the jatras have as one of their main ritual functions, the procession of the festive chariot of its deity.
The deity of the fairs installed on the chariot which is gorgeously decorated. The village population, devoted to the god, finds an inner fulfillment by pulling the chariot made of iron or even silver, wooden chariots.
The Sivaraya's jatre taking place in Mulavad of Bagevadi taluk of Bijapur is celebrated for five days in the Kartika month (Oct-Nov) beginning from the day after Dipavali. Clay is got ready for making the images of Shiva, Ganga, Gauri, Bhringi, and Nimbevva are made; these are installed in the house of the padasetti (head) of the village. All the images are dressed in best clothes and ornaments.
During the period of the jatre the people take a pestle or cylinder-like roller (lattanige) on their shoulders and go up to the temple for darshan ( glimpse)of the deities. On the fourth days, they offer naivedya to the deity which consists of special eatables. The special food for this festival is huggi (sweet wheat porridge) and cooked rice.
A risky trial of faith called godi-mele-harisuvudu also takes place on this jatre. In fulfiment of a vow, some devotees throw their child down from the tower of the temple; four men holding a rug like a net, catch the child without letting it fall.