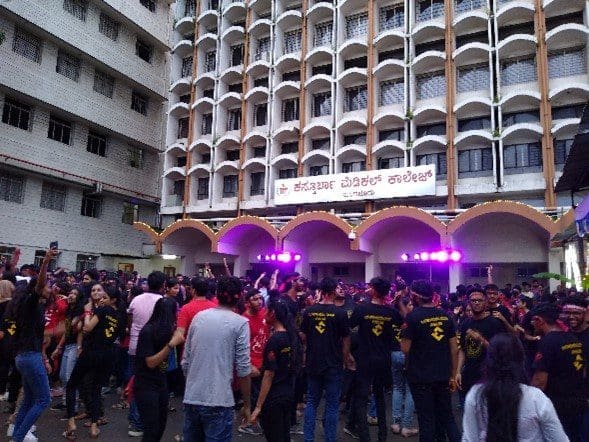 It has been a long yet short time since I have been a part of this majestic college. I had a bag over my shoulder and an ambitious dream in me as I entered. My first impression of KMC was when I saw the LHH building, on a rainy afternoon, from the bottom of the hill and it gave some serious Empire State building vibes.
Indulging in my naïve innocence and the sheer power oozing out of the Building, I thought, after getting this far, I could not feel dumb or clueless but who knew what the future had in store for me! My first blow was when Dean sir asked me who Kasturba was and I was caught dumbfounded. It was just the beginning of a whole year of utter confusion and, mostly, uncertainty; only if I had any clue!
I could not dwell on my disaster in front of the dean (which is quite embarrassing­) because I entered Bejai, my new home. In contrast to the huge and happening LHH, Bejai was rather somber, perfect for freshers to start a new life. We all slowly fell in love with it. We all knew life would change but no one would have guessed the roller coaster ride.
We were the First Batch Of the new CBME curriculum. It felt new and unhinging because none of our senior's advice was working and the staff was just as confused as us. We learned that we were the first batch in years to have a sessional exam postponed! First Biochemistry Sessional in December 2019 was postponed due to Anti-Terrorist exercise in Mangalore. I cannot thank the Departments of Anatomy, Physiology, and Biochemistry enough for how they got us through the most eventful year in the history of KMC.
They even nicknamed us the "Experimental Batch". My Favourite part of this whole experience was when we were taken to the airport at Five O'Clock in the morning in college buses and effortlessly created a mini KMC Bejai right in the middle of the Airport lobby!
We had Freshers too. It was the first one our seniors had arranged in years. We are so thankful to the Student Council of 2019-21 for it. They showed us that we were welcomed, loved, and a part of KMC now. We love you, seniors!
Around February 2020, we heard about this new, dangerous Chinese virus that has found its way to India. Bangalore reported its first COVID death by the end of the month and we were sent home by mid-March. Later, national-wide lockdown made it impossible to come back. We kept hoping it would not last long (oh boy how wrong we were).
Online classes started almost immediately, in full swing, and all exams were postponed until further notice. It was scary and unhinging and a tad bit ridiculous (especially to have practicals and AETCOM online). College kept our spirits up by arranging many camps, quizzes, competitions, so on and we are very grateful for helping us through the uncertainty.
The whole COVID situation showed us just how much society depended on us, doctors. It also showed the public that we are an important part of society, without which there would be no society. It taught humility to the public and gave us a reminder of our sense of duty.
Lockdown ended in November and within two and a half months, we completed the remaining practicals, wrote two sessionals, and the University examination. It was more than just exhausting. It was breaking us to pieces and many of us had decided to give up, but I am glad everyone made it through the toughest part of the last two years and are all well and healthy.
And that is how I finally graduated to Second Year!! Honestly, no one had prepared us for Life, let alone the things we went through as a batch, yet I am so proud of EVERYONE for being so strong and brave. I do not think I would have made it through the year(s) if I had not seen my Batch being so courageous and brave.
From CBME curriculum to online classes, from bubbling, curious foundation course to our finals, from Bejai to Nandagiri/Capriguda, from first Biochemistry sessionals to COVID lockdown, from 2019 to 2021, it has been quite a ride. And it has been the most interesting and wonderfully chaotic time of our lives. And I would not have traded it for the world.
About the Author: Sulalita Panigrahi is a 2nd-year MBBS student at the Kasturba Medical College Mangalore. Check out her profile on Instagram- @sulalitapanigrahi or @sentientanecdotist