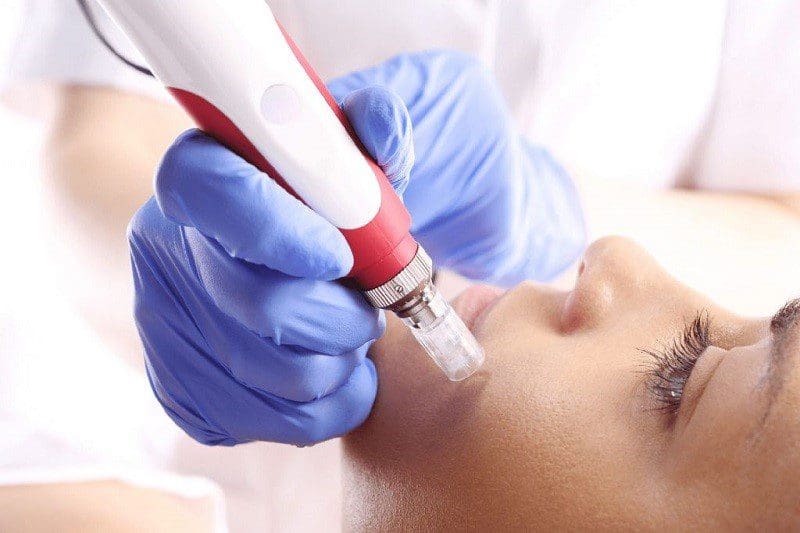 Mesotherapy is a medical procedure that was invented by Dr Michel Pistor in France, in order to relieve pain caused by medical conditions. This technique has been used for more than half a century for treating sports injuries, degenerative diseases, and now it's popular for aesthetic purposes. Mesotherapy helps you fight wrinkles, loose and dehydrated neck skin, pigmentation disorders, hair loss, unwanted spots, acne and scars. It's also a great choice for getting rid of fat deposits and thickest layers of cellulite. Here's what you need to know about this procedure.
How does it work?
Mesotherapy is a procedure that includes injecting needles to deliver hormones, vitamins and enzymes to your skin and helps your skin to get rejuvenated and tighter. The name "mesotherapy" speaks for itself since "meso" means middle, and that's exactly where you deliver the injections – to the middle layer of your skin. It can be used on any part of the body. It's about a lot of small needle stings that work by a particular scheme. The first step is your doctor's decision on the choice of active cocktails. The doctor individually determines the set of cocktails, taking into account your body state, the desired effect, contraindications and the possibility of interaction with the drugs a person is taking. After the examination, conversation and measurement are done, the procedure of injecting the active substance is next. The stings are usually painless, although there are cocktails that can give a mild painful reaction, which your doctor previously warned you about. If a person is pain intolerant, it's possible to apply local anesthetic in the form of a cream. The good thing is that the stings are almost invisible the next day, due to the great regenerative facial skin capability and good blood circulation.
For all of the anti-needle fans
There's a needle-free alternative to the traditional mesotherapy procedure. It's safe, risk-free and it has many benefits such as stretch mark reduction, skin hydration, collagen regeneration, skin toning and firming, as well as body sculpting and cellulite reduction. There are many world-acclaimed experts in the field of aesthetic surgery and dermatology, likes those from a prominent aesthetic clinic in Dubai, for instance. When you decide to do a needle-free facial mesotherapy treatment, you should always go for the best and specialized clinics that have a rich practice in performing such treatments, and that are also known for enhancing skin and body features.
Which problems can be solved?
Mesotherapy resolves a wide range of problems such as hair loss, cellulite, stretch marks, lipolysis, eye swelling and dark circles, spots, and it can be used as an anti-aging treatment.
What age is the best for this treatment?
It's recommended to start from the age of 30, since that's the period where the first changes and signs of aging are noticeable. Mesotherapy is a minimally invasive method and is often described as painless or mildly unpleasant. After the treatment, you can immediately go back to your daily responsibilities because there's no need for recovery.
How many mesotherapy treatments does it take in order to see the results?
Usually, it's recommended to undergo two to four treatments, but it all depends on the condition of the skin and the age of a patient. The procedure is repeated after one to two weeks, and then the results can last up to a year.
Mesotherapy for cellulite
During this treatment, a mesotherapy cocktail includes certain substances that promote melting fat deposits, provide better drainage, have a diuretic effect and increase circulation. The exact number of treatments is determined by the doctor on examination, as it depends on several factors. These factors include the age of a patient, their life habits (whether they smoke or how much they are exposed to the sun), and also the region that's being treated. The first results are usually visible after two to three treatments, and after eight or ten treatments, the amount of fat deposits is significantly reduced. Moreover, the skin looks healthier, tighter and firm.
Hair mesotherapy
Hair mesotherapy stimulates the growth of new hair, reduces hair loss, hydrates and nourishes the scalp, restores and strengthens the hair follicles, makes it bigger and shinier, and helps with seborrhea and dandruff treatments.
If you ever decide to do some of these treatments, don't hesitate. Just stick to the after-treatment rules. No sunbathing, intensive exercise, hot water, heavy makeup and you'll stay fresh for a long time.