Engineering these days is such a hullabaloo among parents, teachers, counselors and even the government due to which more and more students declare,"I want to be an Engineer". When I hear these words, I am like, "OH wow! That's great but which area of Engineering you wish to work for."
Most students don't even know why they want to be an engineer, let alone what type of engineer. They say things like, "My parents told me that I will earn a lot of money even if I simply hold a Bachelor's Degree in any of the wings"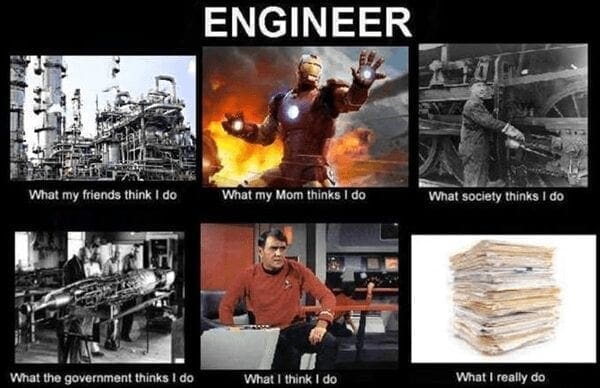 If you really wish to be an ENGINEER, you need to go through research work, searching through branches and contacting a few real time engineers. According to the College Board, there are more than 50 majors offered in engineering, apart from the majors given below.
Mechanical Engineering
Computer Science Engineering
Information Technology
Electronics and Communication Engineering
Electrical Engineering
Civil Engineering
Aeronautical Engineering
Aerospace Engineering
Automobile Engineering
Chemical Engineering
Software Engineering
Instrumentation and Production Engineering
Electrical and Electronics Engineering
Civil and Structural Engineering
Aircraft Manufacturing and Maintenance Engineering
Mathematics and Computing Engineering
Applied Electronics and Instrumentation Engineering
Information Science Engineering
Mechatronics Engineering
Biomedical Engineering
Electrical and Communication Engineering
Electronics Control System Engineering
Marine Engineering
Biotechnology Engineering
Genetic Engineering
Oil and Paint Engineering
Environmental Engineering
Ceramic Engineering
Nanotechnology
Print and Media Technology
Thermal Engineering
Robotics
And the list is endless.
Choosing a branch is difficult. But according to what I have experienced in my first year, one should go for the subject/branch he /she is interested in. Until and unless you go for your interests, you are going to be that Average Simple Engineer, which is too mainstream.
THINK OUT OF THE BOX!!!
About the Author: Pakhi Dixit studies Studies Information Technology at Manipal University Jaipur, Rajasthan. She hails from Jhansi. She considers herself an Insufferable-know it all !! Goody-two-shoes!! Nerd!! Bucktoothed!! Insecure!! Determined!! Loyal!! Brave!! Smart!! Fighter for lost causes!! BRILLIANT :). Books and cleverness!! But there are more important things-friendship and bravery. There is more to me than meets the eye.