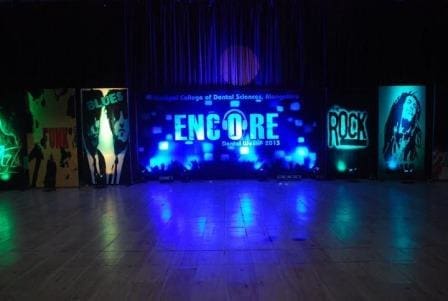 MCODS Mangalore:  One of the top renowned colleges in India. Being part of such a college is like a dream come true. The life of a dental student is either in books or in practical lab and a break is needed from the day-to-day monotonous hectic routine.
The most awaited event in the whole academic session is the Annual College Fest which serves this purpose pretty well. This is held in the month of February-March every year and leaves us re-energized for the rest of the session.
Here's a quick review of the last year Dental Week to cherish the good times.  🙂
The best part of college when all the creative minds stand together to make their batch proud in the Annual Event called Dental Week. A whole week full of power packed performances, fun having active and enthusiastic participation by students as well as staffs.
Like every year the Interclass Competition started with a bang . This time it was special after all it was 25th year of Dental Week and  there was a musical theme, "ENCORE" where each batch was  divided into a separate genre of music.
Encore began on the 15th of February and ended in all its glory on the 23rd of February with the customary Valedictory Function.
Different batches were represented by different musical genres.
First Years as Jazz, Second years- Funk, Third years-Blue, Fourth years-Rock, Interns and PGs- Reggae, Staffs – Classical.
It hosted events giving a platform to each and every talent burdened under books of dentistry.  Students and staffs everyone grabbed this opportunity to have a change from their hectic daily routine and enjoyed it.
Dental Week started long back when MCODS Mangalore was started and first Dental week was not inter-class but was inter-class competition.
Hide not your talents. They for use were made. What's a sundial in shade.
Many other off stage events took place leading to the victory of deserving candidates judged by different KMC and MCODS dignitaries. The last two days were for stage events like Musical Night and Cultural and Variety Show held at TMA Pai Convention Hall.
Finally this fun and excitement packed week comes to an end with the Award giving Valedictory Ceremony appreciating and awarding every talent we came across. Dental week shows how fickle fights are forgotten and everyone unite together to pitch against other batches. Now let's wait for 26th dental week and cherish these moments till then .
"Keep Calm and wait for Dental week".
Stay in touch for more take on dentistry and feel free to send me your contributions, articles  if any on [email protected] or [email protected]
Source:  www.dsamcods.weebly.com