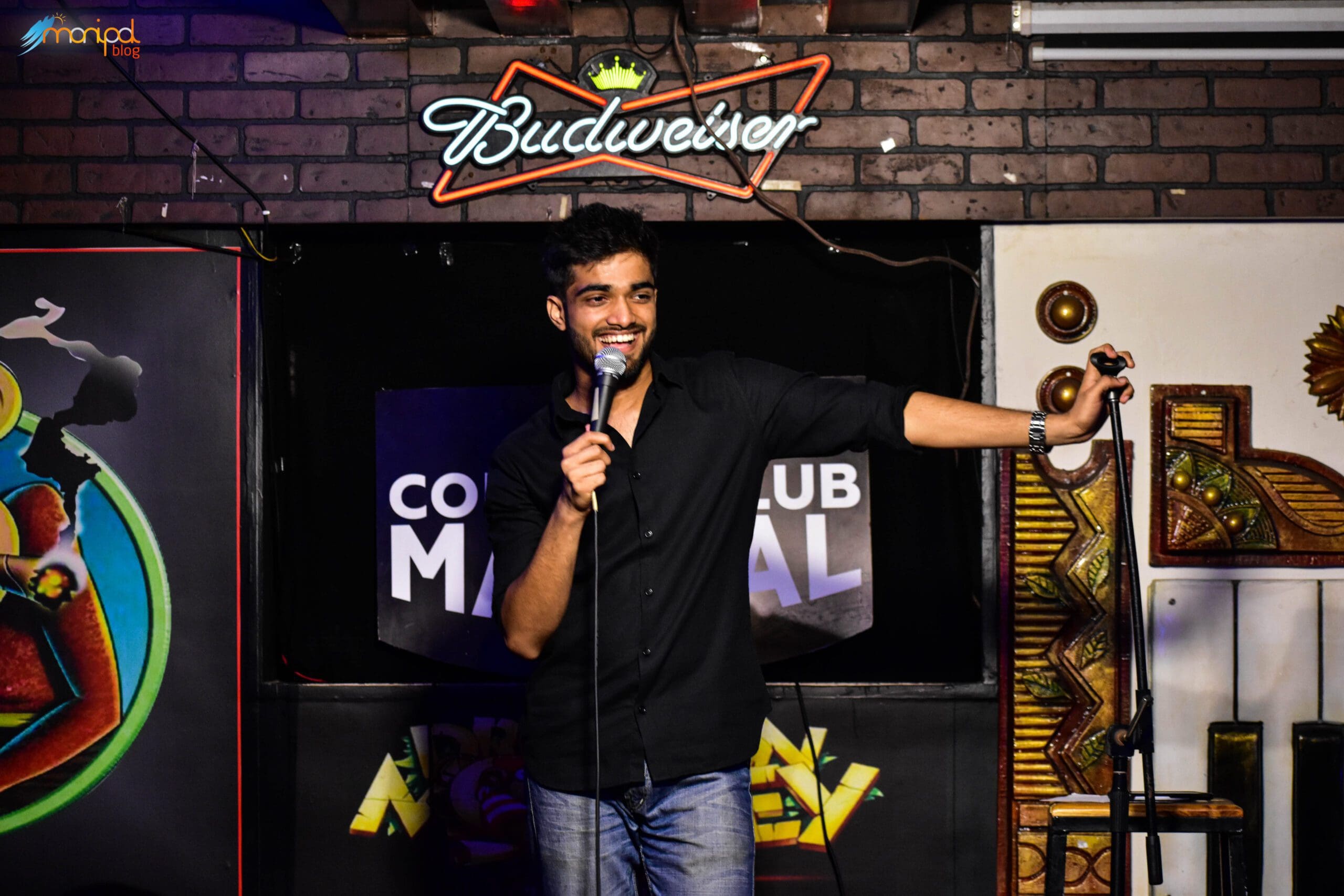 On April 1, Kartik Sadjiv disappointed Manipalites. His friends and fans were truely disheartened by him. You ask why? It was because he pranked them by spreading a fake news that Russell Peters is coming to Manipal! Now, what could have been more soothing and compensating to the scarred people than his very own show? So he did and it was funnier than the funniest meme out there.
On April 2, 'Ek Ghanta' which is Kartik Sadvij's very own show, took place at Drunken Monkey. It was his first independent show in Manipal. The crowd that mostly comprised of students from SOC and MIT looked relaxed as they enjoyed their fellow perform for them. What added to the homely feeling of the show was the bar which was faintly lit with neon lights and the availability of snacks and drinks at arm's length from the cozy couches that the audience had occupied.
The show marked its start with a bout of jazzy music and songs which were sung and played on keyboard by Ananya, a student of MIT. Ayesha Siddiqui, another student of SOAHS opened for Kartik with her short yet punchy performance. Her jokes on religion, feminism and gender equality were amusing for good reasons. She ranted that she had more space in her handbag than her parents gave her.
The main section of the show was even more lit. The best thing for an excited Kartik Sadvij was that he was performing for his peers. The ones with whom he shares a similar taste for comedy. After having opened for big shots of the stand-up world like Kanan Gill, Zakir Khan, Kenny Sebastian and many more, it was Sadvij's time to flex his seasoned command over his signature dark humour. He began his set with jokes on funny names. Later he touched upon various topics going through each one right from religion, politics, places etcetera. Sadvij got funnier as the show proceeded. "Bengalis have such big eyes that they always look surprised and still they can't see the Bangladeshis crossing borders," he said. The most memorable pieces Sadvij presented were of his jokes on Goans, gay men, introverts and spider sex. "Female spiders eat male spiders after mating. So basically Tinder and Zomato are the same for female spiders," he joked and the audience couldn't resist laughing.
I would have given a 3.5 if I was asked to rate the show. Kartik Sadvij as an emerging comedian and a product of Manipal proved that he stands apart with his rad delivery of jokes that appeals to a very specific set of audience but overall is still enjoyable. So next time Kartik Sadvij plays a prank, you know where to buy the tickets from.