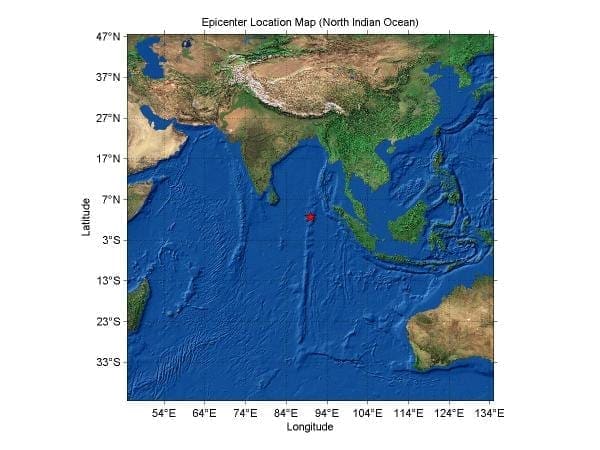 I am still delusional from about 2 hours ago. Had @Mukeshkini not tweeted about the tremblor in Manipal and corroborated with what I experienced about five  minutes after the incident, I might have been in a position to dismiss it as a ghoulish day-dream or as they say in medical parlance, Post-Prandial hyperglycemia.
Mild tremours felt at innovation centre #manipal #fb

— Mukesh Kini (@mukeshkini) 012
Tell me, how easy, or ordinary is it to be suddenly shaken out of your leisure internet surfing  time by an earthquake that seemed to last for almost 5 minutes?
That is precisely what happened with me (and a million others I presume)  at approximately 2:10 in the afternoon today. I was in my cabin at the Department of Pharmacology, Kasturba Medical College, Mangalore, in the Light House Hill Road campus, working on my research article and simultaneously browsing Facebook. My cabin felt analogous to a fragile cardboard box, usurped effortlessly by a giant, who was now shaking it not so vigorously. My study table moved to and fro, my chair quivered, the keys hanging from my cupboard went on clinking ominously- I was totally disoriented for some time, and worst of all, when I looked outside the window from the 5th floor, people were going about their  business with total nonchalnace. This scared me no end!
My heart refused to believe what my eyes were seeing. I got up, took an empty bottle and went upstairs to the water cooler and filled it with half a liter and drank another glass! Got back to my cabin and sat down at my desk, hoping that I was only hallucinating and that my stressed out brain would come back to reality. However, the rumbling continued and I logged on to my twitter account @vishaalbhat, when I came across the tweet by Mukesh Kini.
Only after that did I breathe a sigh of relief and learnt about the massive earthquake off the Sumatran coast, that almost shook an entire continent! Anyway. So now that is over. I can smile. I cannot stop fretting right away (not that fast a learner), but I can at least instruct myself to get into the process. I can be grateful to existence. I can thank the beautiful life that surrounds me. I can love because tomorrow is not certain. I must not postpone anything beautiful for tomorrow. I must live intensively, live totally, here and now.