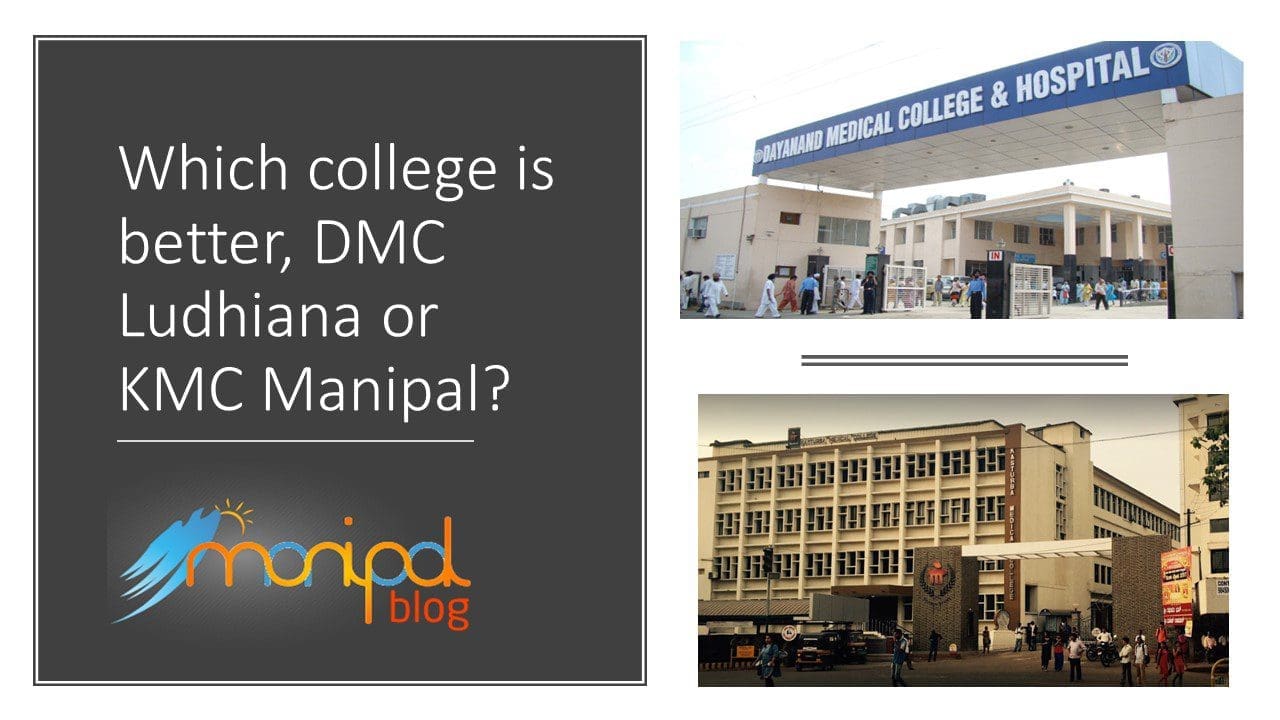 DMC Ludhiana or KMC Manipal?
If you wish to pursue medical, then the first choice is government colleges. However, there aren't enough seats for all the students. To solve this problem, several reputed private colleges have been established. Before we discuss private medical colleges, you must be aware of how expensive medical education is. One of the primary reasons people opt for government colleges is the subsidized cost. However, this arrangement is absent in private medical colleges. They are expensive, period.
Although government colleges have their plus points, the private industry isn't discouraging at all. Several elite private medical colleges have state of the art infrastructure. It wouldn't be wrong to say that they are better than a lot of government colleges. Their handsome fee structure means higher revenue and hence, better facilities. You can be sure that you will be getting value for your money. So, if you can afford it, there is absolutely no reason to hold prejudice against private medical institutions. Today we will be looking closely at two very prestigious medical colleges – Dayanand Medical College (DMC) Ludhiana and Kasturba Medical College (KMC) Manipal. The goal would be to provide a comparative analysis between the two.
HISTORICAL BACKGROUND
Dayanand Medical College (DMC) came into existence in the year 1934. It was formerly known as Arya Medical School. In the year 1964, it became a complete MBBS college.
Kasturba Medical College (KMC) was established in Manipal, Karnataka on 30th June 1953 by T.M.A. Pai ever since students from 44 countries have graduated from KMC.
AFFILIATIONS
DMC Ludhiana is affiliated to the Baba Farid University of Health Sciences, Faridkot, Punjab. It is also duly recognized by the Medical Council of India for MBBS and even several other speciality courses.
KMC Manipal is affiliated to the Manipal Academy of Higher Education, Manipal. The Medical Council of India also recognizes it along with several foreign councils like General Medical Council of Great Britain, Malaysian Medical Council, Australian Medical Council, American Medical Association.
SEATS AND EXPENDITURE
The admission procedure for both these colleges is through the NEET exam. KMC Manipal has 250 seats, while DMC has only 100 seats. Coming to the question of the cost of education, KMC Manipal is more expensive than DMC. The course fees for KMC are ₹ 46.35 lakh, while that of DMC is ₹ 29.7 lakh. 
RATINGS AND RANKINGS
When it comes to ranking, KMC has been ranked higher. According to the Careers 360, KMC is ranked 2nd, and DMC is ranked 10th for the year 2019. KMC has a score of 398.79, while DMC Ludhiana has a rating of only 275.48. According to another ranking website Eduvidya.com, KMC Manipal ranks 1 while DMC Ludhiana ranks 60. This proves that KMC is ranked and rated higher than DMC.
INFRASTRUCTURE AND ACCOMMODATION
KMC Manipal again is better than DMC Ludhiana when it comes to infrastructure. They have better-equipped labs and more advanced technical equipment. Hostel facilities are entirely absent in DMC Ludhiana. KMC Manipal, on the other hand, have lavish hostels for boys and girls. Another downside of DMC Ludhiana is the absence of sports facilities. In terms of quality of food, KMC has a better-maintained cafeteria.
CONCLUSION
As we can see that the quality of education at KMC Manipal is better than that at DMC Ludhiana. It has better opportunities, curriculum, international exposure, state of the art infrastructure and overall pleasant environment. The only factor, however, is the higher cost involved. KMC has a comparatively higher fee than DMC. Therefore, if you have the means to afford it, you should always opt for KMC.