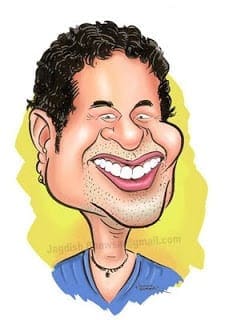 Have you ever day dreamed?
I do it all the time, in fact, I have PhD degree in day dreaming. And because of that PhD degree, I have a very hard time concentrating on my normally easily achieved B.E. degree.
Last 5-7 years, have been very sad years for someone who wants Indian Cricket to look forward, to prosper, to not have their asses burnt while playing against teams like Ireland or Netherlands. It's been very hard for someone who knows the sheer pointlessness of the decision to play Sachin in the ODI team…
"Wooohhhh Dude did you just say SACHIN", now already I can see, few people have already clicked red X button and started to browse cricinfo, or their twitter account.
Now, see this is what I am talking about. It's been extremely difficult to survive as an anti Sachin fan. The fans..They come in, they post sites, they know every minor detail about him, that even Sachin's wife would not know. No player has been that good to merit 22 years in the national team, and neither is Sachin Tendulkar, there have been amazing lapses of form, a horrible stint at captaincy..remember the aussie tour of 1999….horrible shot selection in crucial stages….remember Vishakhapatnam 2009 or Chennai 1998…..not to mention disgracing the nation when deciding to play against Pakistan in Toronto instead of the commonwealth games……..evading of taxes…and I can go on…obviously those sites don't make a note of that….what they do make note of is numbers….
Hey, I am big Sachin fan', they say, Ughhh they start to puke on your hand and your face. I wipe that face, and trying to explain, why I am an anti Sachin fan, they again try hard to defecate, since they drink less water before going to bed, or less fiber rich food, ergo they put their constipated poop right in front of my mouth.
And I miserably swallow that and hope that my stomach and esophagus don't rupture due to retching, since they reject that puke and poop.
A great man once have said, " Sachin's fans think, Sachin's fart is like meteor" or something like that.
Funny I know, but how to explain it to the delusional….Einstein was also called MAD…so may be in my repeated endeavours to make the world know the futility of this once great player…..it's quite understandable if they call me Schizophreniac…and so when they don't find anything to support him, they get personal, verbal abuses follow, heated arguments, personal scathing remarks…..and yeah when they find nothing else…Sachin is God..bang comes the reply. Ok, I am no expert on religion, but may be the fragile definition of this word is what makes India prone to communal tensions. How can you even consider, someone who hits ball with a wood as God, purely based on that I consider all the IITians to be GOD, at least they do something productive for the society…
But then again, how to make it evident to the delusional….The delusional…who see the 47 centuries…but who dnt see the rest 390 innings where he averaged 32.87, the delusional who see the 200*, but who dnt see the conditions under which it ws played (He scored 200 and the team 413….when Saeed Anwar scored 194 at a time of no powerplay, the entire Pakistan team had managed only 307…), but just how to explain it to them. The horrendous pull shot off Mc Grath in 2003 finals, the horrible captaincy stints, the torture of having to watch him play Morgan Freeman in Shawshank Redemption every time his bowler went to his start up…..the failure at 2007 World Cup…the inability to help us win a World Cup….and it goes on….
God the delusional…Those, who always negate everything whatever you have to say: These are 'special' 'unique' 'Judgmental' 'Genius viewer of the game' 'Pure Species' 'THE most Neutral Game Watcher' kind of people. They will never accept with your opinion. They will come up with something drastic or WOW factor of the game. And they have their own fan base, so as soon as Sachin scores, they come up with special judgment, and their fan base start 'poop and puke' all over again right in front of my mouth. Its like Sachin mistimes a shot…and this guy thinks Ohh My God…I should stop making love to my Girl, and go orgasm over that shot instead…
Today he got out to Seelar, its not your fault if you have not heard that name…neither had I. And so the priests of Sachinism are laying quite..baffled as to how?? Just how did the god fall to a rookie…they will now probably play a highlights package of 1998 Sharjah Finals to make them feel good…While a rational viewer like me..just wonders…Just How Much longer is this going to happen?? How long??