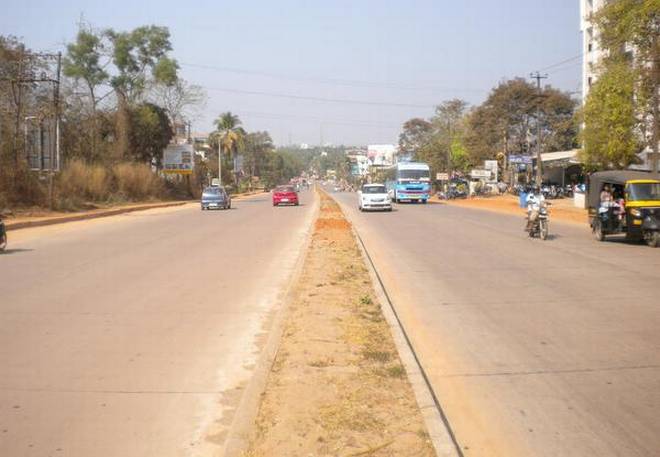 Manipal is seen as a highly metropolitan, liberal utopia by many students from all across the country. As a student myself, I can ascertain the same being a student here. But everything is not as bright and colorful as it may seem from the outside. Certain parts of Manipal are really dark, literally.
Udupi Manipal Highway Goes Dark come Evening
An ongoing issue for the past few years, it is one that has not been resolved yet. The stretch of the National Highway 169A running between Kadiyali in Udupi and up to Kela Parkala in Manipal, which crosses through the heart of this quaint student town faces the issue of no proper street lights. Making things worse, the residences that have sprung up here over the years face the same hazard of darkness.
Despite the issue is a recurring one over the years, it is indeed disheartening to see that very little has been done over the time period to make things any better, Though some areas that previously faced this issue are not facing it now after multiple reports from students to the authorities and Manipal Academy of Higher Education officials, especially for the areas around the different college campuses, a plethora of new areas are facing the issue.
No street light from kadiyali to Manipal Eshwar Nagar in the main road added on to that divider inbetween the roads are causing more trouble to common man than help. Who is to be questioned? @AmrithShenoyP @venkupanambur @PramodUchil @PMadhwaraj @of_udupi @RaghupathiBhat

— Vishak G Shetty (@VishakGShetty1) May 14, 2021
A prime example of such a situation is the area near Inox, Manipal. It is a prime residential spot at Laxmindra Nagar, Manipal, which is close to the famous "Syndicate Circle". Famous chains like KFC and Dominoes' presence in the area along with Inox make the place a prime location for students to visit, making it more discomforting to acknowledge that this place suffers from the same problem of no proper street lighting.
@udupitraffic when Udupi manipal road get Street lights ❓😷 pic.twitter.com/oX1RlqQud6

— K VIVEKANANDA PAI (@KVIVEKANANDPAI) December 11, 2020
With the highway cutting right in the middle of this place and no proper footpath for pedestrians, it is a hazard for anyone walking after dark, especially if they are traveling towards the Udupi side. With speeding cars zooming through the area and the only light that someone can see is from the headlight of the cars rushing towards you, (Which is harsh on the eyes and causes people to shield their eyes automatically) it feels like a setup for something bad waiting to happen.
Allegations of Malpractice by Contractors
Despite strong voices raising concern about the issue, several malpractices by the contractors in charge of maintenance of the street lights have not been changed. Lights guaranteed to work more than 50,000 hours fall dead within 1000 hours and lights costing Rs 1500 being quoted at over Rs 5400 to name a few of the malpractices.
As always, it is the general people that have to suffer because of these nuances, and despite the previous legal tender that put Ramesh Electricals from Shivamogga in charge of the maintenance of the street lights being canceled by the District Commissionaire for their poor performance, not much has been done to not repeat the same mistake again.
However the only culprit is not just the contractors but to an extent, MESCOM, who provides power in the area for certain waste of their resources. Power (Electricity for this context) being wasted is a horrible way to deal with the current situation where people are looking to go greener and switch to cleaner sources of electricity.
Along with that, it's money being wasted as well, which could have been used otherwise for the betterment of the people. Especially so for a Smart City like Mangalore where people promote the saving of water and electricity, such waste seems extremely ironic.
Coming back to the case at hand, Manipal is a student town and nights are romantic for students, whether it be for going out with someone or catching up with friends at some spot and even coming back late home for work.
Citing such circumstances, steps should be taken forward as soon as possible instead of just mincing words to make things better and safer, not just for the students but for everyone who is here and for those who will be in the future.