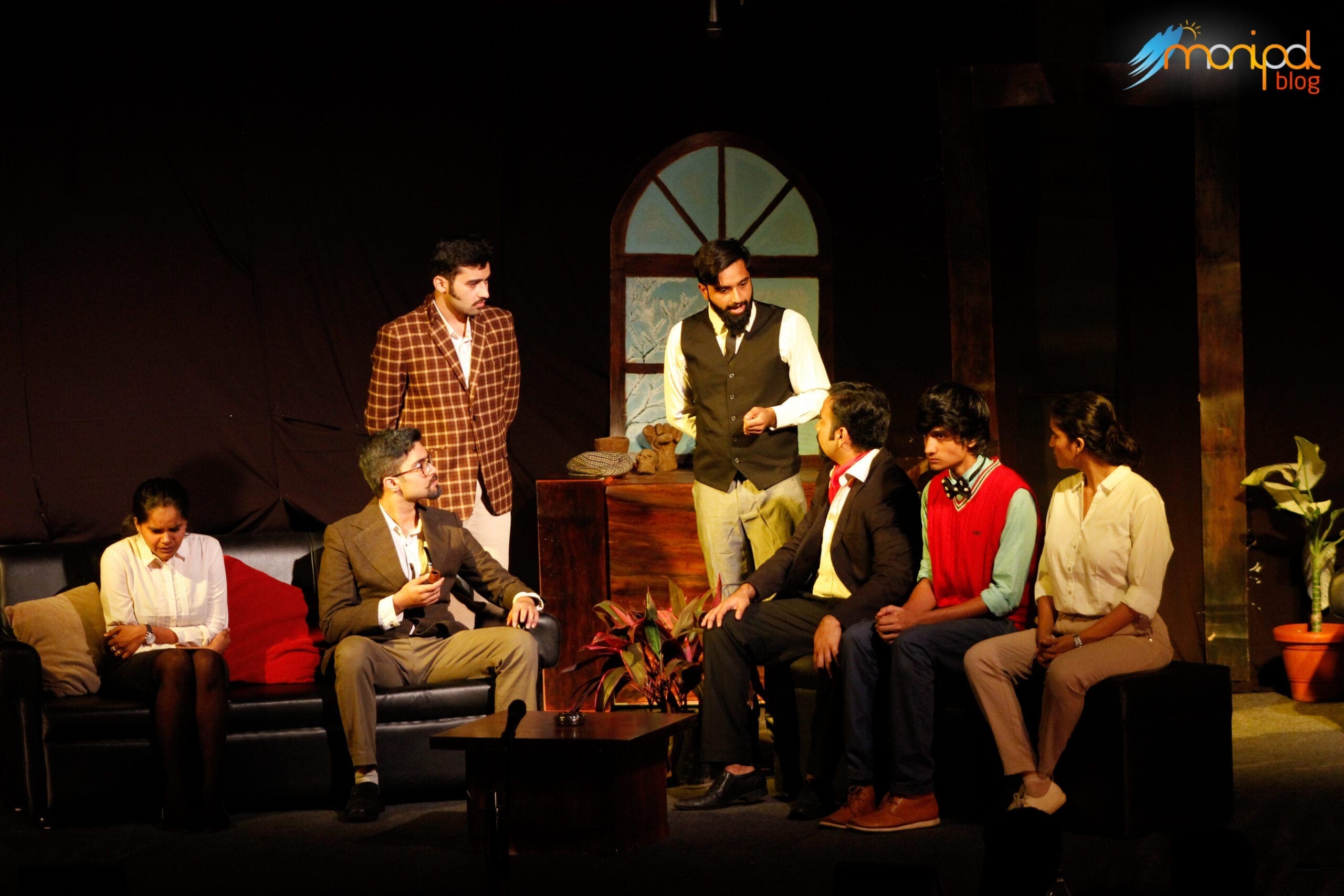 Harisankar Menon | Guest Blogger
It was quite the chilling weather outside but the warmth of the fireplace inside indeed kept the occupants of Monkswell Manor in comfort and relaxed much like me in what seemed to be a rather peaceful beginning to something that started unwinding with the perfect tinge of melodrama. But as time passed in the drama, the fake fireplace in the set never seemed enough to get rid of the chill elevating through my spine,a process that lead to the awakening of every single cell in my body to feast what was a series of adrenaline spikes followed by the grant gala of thoughts striking my mind as if it was a meteor shower all in accord to answer one question,a question that haunted me for almost three hours,one that strangled my mind through jeopardy, ecstatic when what you expect to happen occurs but torturable when a twist of plot takes place on the stage which happened faster than I could take a breath and register my milliseconds of ecstasy in my mind, a question that left the audience baffled – "Who is the Killer?"
Writing a book is a great feat for any person for one must have enough command on a language to express his or her thoughts in words. A mystery novel is even more of a hurdle, cause it involves setting up a plot of curiosity in the mind of the reader. Any mystery drama, however, takes a whole another stage in terms of the hurdles it entails, for it requires the picturization of words into expressions, tone, appearance, body language, gestures, lights, cameras (as was the case of this one) and action!
But then when the Drama is based on the best mystery novels by one of the greatest writers of all time – "The Mousetrap by Agatha Christie",the hurdle of performing the art of drama extrapolates to a whole different scale of measurement as a result making it harder for the audience to say that the drama performed by whoever was good. Aaina did not, however, make me want to say that their play was good,it made me and my friend Navaneeth say, "DAMN BRO, THIS IS BRILLIANT, HOW THE HELL DID THEY DO THAT!", so went the conversation following the climax of the drama,a time frame of 5 minutes that surged the adrenaline in my bloodstream putting me to tears literally cause what I witnessed on the stage was a plot twist that was mind-bogglingly unexpected and brought to life is nothing short of a what I'd now call a breathtaking display of dramatics and I'm sure no audience in the world would stand against that.
But much like every great movie you ever waited to see for a long time and eventually got an opportunity to see it, to enjoy it and feel happy with the epinephrines first and then feel a little less of the enthusiasm knowing that an era of waiting to watch the movie has come to an end. This may not have been a concern to most of the audience, but to me, a person has quite a lot of friends in Aaina and having had conversations about this play which was only upcoming then,I was able to get the unanimous message from every Aaina member that this play was not just any play for them,this play marked the end of an era of some of the greatest actors that Aaina had to ever inevitably foresee go, a farewell to the best that has ever set foot in a Drama on Manipal soil. A very particular thought haunted me as I walked out the hallway of the auditorium like everyone else did like good sheep. But then, this unquenched curiosity of mine became unbearable,and I put upon myself a quest – to know what it felt like to be a mesmerising artist on stage and astound the audience for one last time knowing that with the conclusion of this drama, their era of acting and being a part of the Aaina family is due!
I stopped walking out, turned back, went back into the stage, congratulated my Aaina friends. Then, with a false claim of wanting to interview the president of the club for the sake of an 'event review', for the ManipalBlog.com which was honestly unnecessary as it was definitely going to be great anyways, I was introduced to him. This is how our conversation went about
"So,this is your last year in Aaina and your last play, how does it feel like now?"
He called a friend by the name of Raza, who also happened to be in our proximity to hear the question.
The gist of the conversation was the following.
We began as just ticket selling volunteers who never thought we'd reach this far and today Aaina is a family that hurts me to fare goodbye to.
Raza went on to show me on the brochure that their name was amidst the sea of names of the management department of Aaina back when they had joined, but today it has become in the Directors section,a journey of friendship that grew into a family, first among the two at their hostel and then to the extended Aaina family it is today. And that Aaina is their family.
I then asked the president Khushveer Sharma on what a message would be that you'd like to give to your Aaina family members. He smiled and gave me an answer that stirred my emotions of happiness and sadness in a perfect blend that made me feel like I was also going to miss something big next year,a glimpse into the essence of the strong bond that every Aaina member held amongst each other,a message that I'm sure even I'll possibly take to the grave as a memory for the sheer deep level of emotion it held
Stay Dramatic… Stay Aaina!