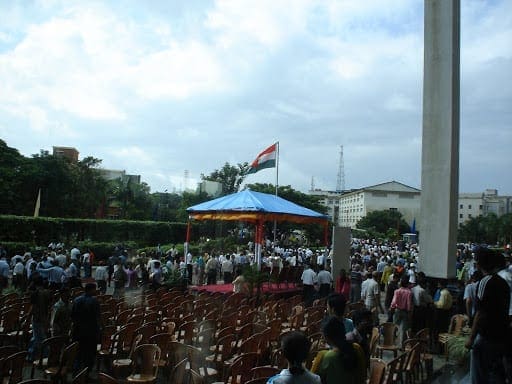 India turned 60 yesterday. But has the meaning of independence faded away? Is it now reduced to a symbolic national holiday? Is it reduced to mere hoisting of the National flag and singing the National Anthem? Does the dream of the Architect of Independent India – Mahatma Gandhi – Live on in the youth of today?
A proud Tricolor flutters in the breeze
These and many such similar questions were running through my mind as I woke up early to attend the ceremony to commemorate the 60th Independence day of India – My country. It was my first one after arriving in Manipal and I felt a thrill when the chief guest unfurled the National tricolor. This was followed by a march past by representatives of the various institutes that fall under the purview of the Manipal University. The students appeared smart and the security agencies received the biggest applause from the audience.
Our chief guest speaks
A Snappy March Past by representatives of the college of nursing
Seeing the fervor of the crowd and their enthusiastic participation, I wondered what the feeling and joy of the country must have been when the National tricolor fluttered atop the Red Fort for the first time on that momentous occasion 60 years ago! I hope that i felt at least a 10th of what our freedom fighters had felt that day.
A few things though saddened me. There were very few who turned out in our national attire. Most of us including myself were wearing western attire. During the National Anthem photographs were being clicked, quite a few heads were bowed. The flag and the National Anthem represent the Pride of our vibrant nation and our heads should be held high.
Ceremony over lets have the sweets and leave?
The chief guest gave and inspiring speech, with excellent and invigorating oratory, he had the audience hanging on to each and every word. I suddenly remembered our former President Dr. A.P.J Kalam and his Vision 2020. Yes the youth of today do value the Dream of the Mahatma. They might run behind Money and they might imbibe western culture, but deep inside the pride of belonging to the greatest nation of the world runs deep in our blood. Our culture will continue to flourish and India shall overcome!