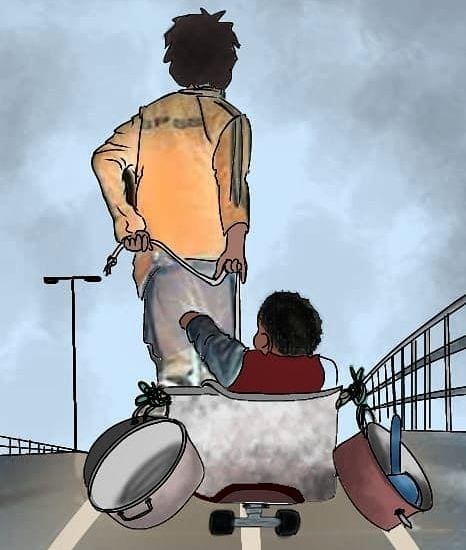 "Capernaum" is a sprawling story based on true events, moving beyond the conventions of documentary or realism into an unnamed style of representation. It is a protesting howl and a resistance anthem.
Nadine Labaki's Capernaum never addresses abortion by name, but it's one of the most forcefully pro-choice films I've ever seen. It begins with the audacious, hooky idea of a little boy who sues his parents for begetting him. Over the course of two hours, the film makes its case aggressively, devastatingly, and uncompromisingly. Though the film is set in Beirut, the title is a namesake derived from Capernaum, an ancient Israelite fishing town.
"Capernaum" later on became a term that meant "disorderly accumulation of artefacts." People, especially children, become a part of the disorderly accumulation in the slums where Labaki's characters live. At the beginning of the film, Zain (played by Zain Alrafeea), a boy about 12 years, is released from jail to face his parents in court. Represented by a lawyer, and despite having been convicted of a stabbing, he is now the plaintiff: he's here to argue that his very conception was a crime of negligence.
Receiving a 15-minute standing ovation at Cannes and winning the Jury Prize, Capernaum is a harrowing, empathetic exposé of impoverished childhood, emigration and parenting. Slow-paced but a heartbreaking depiction of Lebanese social realism, and at times a little humourous. Who and what are Zain and Yonas in the end? Rahil, perhaps? Souad and Selim, perhaps? They must each react to Zain's question: "Where are your papers?" "I want evidence that you are a human being." Statelessness and illegality are not just technical terms. They are the monetary-driven bureaucratic systems that confirm or deny your humanity.
In a nutshell, Capernaum is a must-watch gem of a film that should not be missed by all movie buffs. If you're looking for a good time, this isn't the film for you. If you want to see pure cinematic artistry, however, you're in for a treat.
Capernaum (2018)
Dir: Nadine Labaki
Country: Lebanon
Graphics by: @psyleee__
Review by: @rajasik_