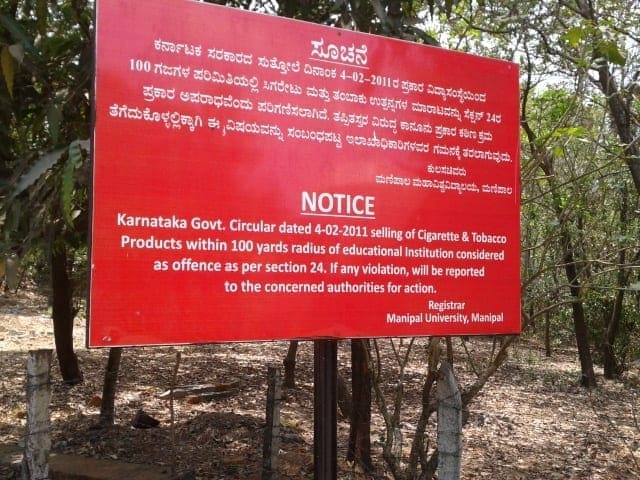 Timmy Anna, the oldest fast food entrepreneur in Manipal, who sells cigarettes and Maggi near the 14th Block boys' hostel of MIT, Manipal, has been arrested by police for violation of a  G.C. dated 4.2.2011 of the Government of  Karnataka that prohibits selling Cigarettes & Tobacco products within 100m radius of educational institutions.
The police have seized about  200  packets of cigarettes, lighters and a laptop from Anna's roadside cafe. The incident took place at about 1:00 PM today.
Timmy Anna is a very popular figure among MITians. He's been selling cigarettes and catering to the everyday needs of MITians for about 3 decades. He is tech-savvy and interacts with his customers and fans on Facebook, on which he has over 1600 friends. He was recently in the news for his talk on entrepreneurship on the ION wi-fi student network.
Though police had information about him violating the G.C. long back, they hesitated to nab him fearing  violent protests and roadblocks from his customers, who are primarily MIT students.But now,they have taken all precautions to prevent any untoward incidents.Two battalions of  RAF and riot control police have been deployed in  MIT and Section 144 has been invoked in some areas of Manipal.
The news of the arrest took MITians by surprise. Our sources at Annapurna and Aditya canteens heard groups of students and hostel residents discussing various strategies over lunch to bail Anna out of trouble. A Facebook page was created to express solidarity with Anna and till the last reports came in there were 4041 'likes' for the page.
Afternoon classes for MIT have been cancelled and students were warned against coming out of their hostels by the Chief Warden. MIT campus is peaceful so far but the atmosphere is tense.All the shops and coffee outlets have been closed.
Shortly after his arrest, Timmy Anna spoke to reporters at the Manipal police station. He urged his customers and fans to maintain restraint in the wake of his arrest and assured them that he will be out in a day.
Meanwhile,we learnt that police are under pressure from higher authorities not  to  file a case against Anna.
P.S: All the facts in this article are made up! But you already knew that didn't you?