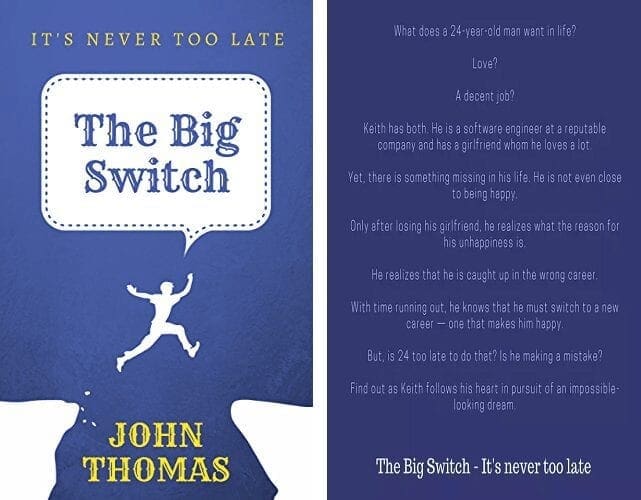 Title: The Big Switch: It's never too late
Language: English
Author: John Thomas
Genre:  Non-Fiction –   Self Help – Motivational and Inspirational
Binding: Digital/ Kindle
Price: Rs. 49 (Buy from Amazon Kindle at Rs.49)
Pages: 239 Pages
What this book is about:
What would you do if you are in a situation of your own doing, that keeps you unhappy despite putting in your best efforts? Would you consider switching out to something that keeps you happy without the monetary compensation that you are getting in your current position? A totally relatable situation for most of us trapped in the dilemma of having a good job or a good life.
So What is the book about again?
From the cover –
What does a 24-year-old man want in life?
Love?
A decent job?
Keith has both. He is a software engineer at a reputable company and has a girlfriend whom he loves a lot.
Yet, there is something missing in his life. He is not even close to being happy.
Only after losing his girlfriend, he realizes what the reason for his unhappiness is.
He realizes that he is caught up in the wrong career.
With time running out, he knows that he must switch to a new career — one that makes him happy.
But, is 24 too late to do that? Is he making a mistake?
Find out as Keith follows his heart in pursuit of an impossible-looking dream.
Book Review:
As with most self-help books, the revelation that we can be more than what we are at this moment in life is brought to the fore in this novel that is quiet similar to "The Alchemist" by Paulo Coelho. However, the approach is completely different in that , the protagonist in this story could be any one of us. The protagonist, Keith, is stuck in a job that brings in a good salary, but leaves him shot of job satisfaction as he has a boss who doesn't appreciate the hours put in. Through the help of a mentor , he tries to change his approach through a Big Switch, facing numerous problems along the way.
The story takes us through the difficulties, but at the same time, drives in the idea that it is never too late to change the course of your life. It does not follow any usual pattern and you can be sure that you are going to get a fresh read here!
The book is not exactly a page turner, but keeps you just interested so that you get to the end! The language and the narrative, overall, are pleasant in the novel.
ManipalBlog rates this book 3.5 out of 5.
P.S. "This review is a part of the biggest Book Review  Program for Indian Bloggers. 
Participate now to get free books!"