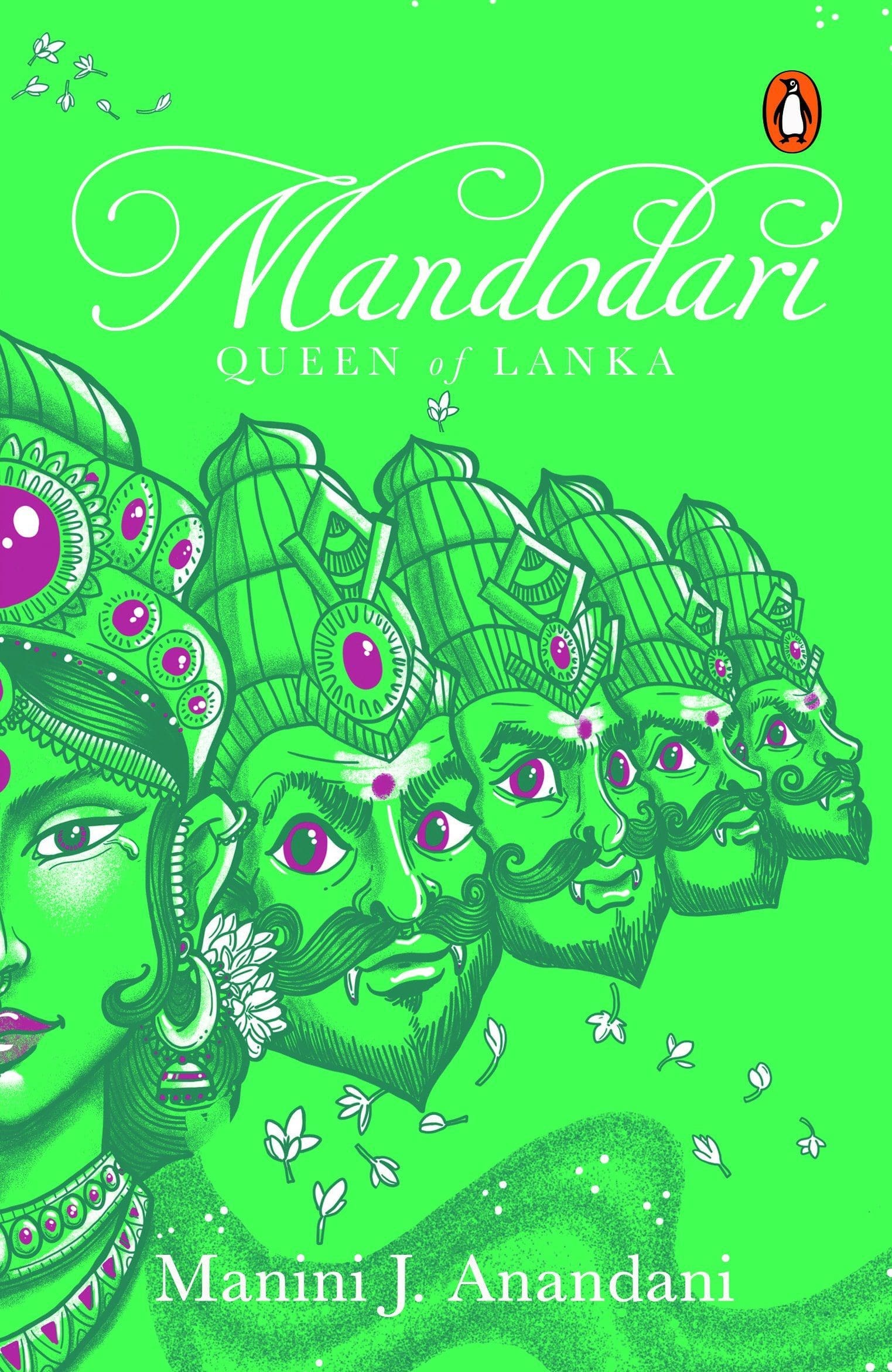 Title: Mandodari: Queen of Lanka
Language: English
Author: Manini J. Anandani
Genre:  Fiction –   Alternative History/Mythology
Publisher: Penguin (2018)
ISBN-10: 0143442686
ISBN-13: 978-0143442684
Binding: Paperback
Price: Rs. 299 (Buy from Amazon for 180)
Pages: 288
Summary:
Our childhood, at least those who were born in my generation, was spent listening to the stories of mythological heroes, the valour of Arjuna or Bheema, the deceit of Duryodhana, the loyalty of Karna, the morality of Yudhisthir or Rama, the bhakti of Hanuman. What we are not told about are the stories of the women in these mythological epics. Mandodari – Queen of Lanka is one such story. Manini J Anandani has tried to give a glimpse into what must have been the life of Ravana's first wife. I found the book interesting, but felt that more could have been written about a person, who might have been one of the most important characters in the Ramayana on the losing side.
Book Blurb:
Borrowing from Sanghadasa's Jaina version of the Ramayana, Mandodari-one of the least known characters of the Hindu epic-is finally given a voice.
Considered to be one of the most beautiful apsaras, she was married off to the mighty Ravana, the legendary king of Lanka. In her story, she speaks about her struggles after her marriage, her insecurities and her pious nature that challenged her husband's growing aspirations. She narrates the rise of Ravana's power and the blunders he made that ultimately caused the downfall of Lanka.
Despite her husband's faults, Mandodari loved him and advised him to follow the path of righteousness. Ravana's defeat in a thirteen-day war turned him into a villain. But what if he were the real hero on his side of the war? What if his downfall was a result of scheming to push him out of power? This is Mandodari's story.
Detailed Review:
For people who have read Anand Neelakantan's Asura, it should not come as a surprise that Ravana is a noble king who cares most for his people despite his shortcomings. In Mandodari, Manini J. Anandani's debut novel, the fictional story of the Queen of Lanka and Ravana's first wife, is narrated from the Queen's own view point.
Mandodari's story is then a reminder of how people are stereotyped and universally denigrated as a race due to the few people who are tainted, but among those there will be a few, who cannot be clouded, due to their individual brilliance. Mandodari, the queen of lanka is one such brilliant and morally strong lady who defies the myth that all the danavas and rakshasas were immoral. She is simple, unswerving, and self-effacing, driven by the light of knowledge which gives meaning to solid materialism in an age that is shrouded by impulse, passion, and desire.
Mandodari came into existence due to an indiscretion by Shiva which angered Parvathi. Parvathi curses the apsara to turn into a 'Manduka' (frog), however Shiva calms Parvathi and grants a boon to the Apsara that she will turn into a beautiful princess after 12 years. Thus starts the story of Mandodari.
Ahalya Draupadi Kunti Tara Mandodari tatha
pancha kanya smarenityam mahapataka nasanam
One who recites daily the holy names of pancha kanya – Ahalya, Draupadi, Kunti, Tara & Mandodari – will destroy the greatest sins.
Hindus remember the pancha kanya in this daily prayer because they were perfect wives. Two things strike us in this verse: the use of the epithet kanya (virgin, maiden), not nari (woman); and the unusual combination of names that redeem, of whom at least two – Ahalya and Draupadi – are ayonijasambhava, "not-of-woman-born."  Of the five kanyas, none quite measure up to the standard of monogamous chastity, commended so overwhelmingly in our culture. Each has had either an extra marital relationship or more than one husband. Why should invoking these pancha kanyas be extolled as redemptive and why, indeed, is the intriguing term kanya applied to them?
In Mandodari – Queen of Lanka, the resilience shown by her is explained through her unwavering love for the Lord of the Asuras, Ravana. Despite Ravana's many short comings, including his love for women, his arrogance and finally his vanity, that is the cause of his death, Mandodari stands steadfast behind his decisions, trying her best to direct and channel his many strengths. The story then is of how a perfect wife should behave. Mandodari is often equated to water, "turbulent on the surface and deep in her spiritual quest", and this is how she is depicted in the novel.
The novel is not exactly a page turner and may not interest many due to the bland monotone of a one person narrative, but there are a few twists that are not part of the original story by Valmiki in his Ramayana. Do note that this book is a fictional retelling and is from the viewpoint of a person in the losing camp.
My opinion:
An interesting read as it is told from the viewpoint of a character that has not been give due prominence in most retelling of the Ramayana!
What I liked about the book
The story flows along and there are no difficulties in understanding it.
An alternative story view point that puts many things into perspective as to how the opposite camp may feel.
What I did not like about the book
The story feels slow in places and may not appeal to many.
Buy or Don't buy?  For those interested in Mythology, this may be a light read! I give the book 3 out of 5. You can buy it from Flipkart (Rs. 180) or Amazon India  (Rs. 180) If you reside outside India try Amazon global.($18).