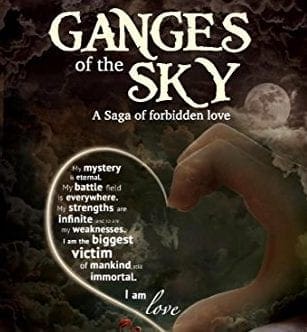 Title: Ganges of the Sky: A saga of Forbidden love
Author: Kartikey Singh
Genre: Adult Fiction
Paperback: 294 pages
Publisher: Frog in Well (19 December 2017) – Leadstart Publishing-Platinum Press
Language: English
ISBN-10: 9352019601
ISBN-13: 978-9352019601
When we talk about love, we usually think of two persons falling in love with each other unconditionally and implicitly but Kartikey Singh has brought us a completely new way of seeing love. This book is not just a bunch of pages saying about love, it's a journey, a journey that will lead to self-recognization. It's about loving yourself, loving the almighty god, your friends, your family and whosoever you cross paths with.
To be honest, I think that each one of us can relate to Ryan, the protagonist of the story, at times we are bound to think, that he is being stupid, but then the realization comes, had I been in his place, I would have done the same or maybe worse. It's not always easy to maintain a balance between your personal and professional life, and so Ryan also faces the same problem. At times you feel pity for Ryan for falling in love with a person who cannot be his, because she's already in love with someone else, still continuing loving her, because there is nothing much you can do about this, it's not you who decide that, this particular person will be your partner or love interest, it's the destiny, and we're just the puppets.
The whole story has been built up around Ryan, his friends, and his nanny, though there are two special characters too, and since they are special, it's better to find out more about them while reading the book.
I too, as a reader, learned so much about life and love. It's racy, sexually open and still quite spiritual. The opening up of secrets of Ryan's dreams near the end was the bang moment. Yes, Ryan keeps dreaming in between and you might end up thinking why on Earth are these dreams, part of the story, but have patience, the last chapter has something unexpected for you, where not only the dots connect to make a line, but also the characters connect to each other in a totally different way. However, it is not just the end but the whole journey of reading, which kept me engrossed. The title of the book itself is one of the lessons I got along with Ryan.
There are moments when you feel like crying because Ryan is too helpless and you can do nothing about it. Talking about the characters, Kartikey Singh has knitted the story perfectly around only a few characters but he was quite witty in connecting them with mythology, with our precious history, this is also one of the reasons why I enjoyed the reading.
Don't expect it to be a mainstream love story, it is not. It's quite a different story, which will definitely keep you on toes if you have paid a little attention to the story and once you are in, you will definitely live each moment with Ryan!
Enjoy Reading 🙂