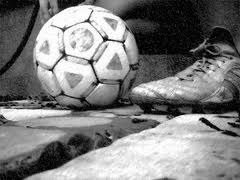 Everyday evening when Dad used to come back from his office, we both would settle down, turn on the sports channel, grab a Pepsi or 7Up and watch a game of football; on weekends WWF. In the morning before heading to school, I used to catch 30 min of 'Captain Majid' – the cartoon series of the game of football, where the inconceivable and impossible moves were done with ease on the pitch.
To not have a favorite football team was like not being normal. While my dad is a hardcore Argentina fan, I grew up watching and enjoying the Brazilian National Team; idolizing the 'R' triumvirate – Ronaldo, Romario and Rivaldo – yes in that order!
All the action seen on TV was emulated on the school ground – during the games 'period'. As the years went on, football moved onto full length football fields – desert soil lifting all the dust, running in the scorching heat of the Middle East, tanned for days. Everything seemed to be finite except
the desire to run endlessly after or with a football. But then, school was school, there were limits when it came to play hours and was impossible to be 'responsible' for oneself with parents always around the corner.
College life meant Liberation – the freedom to express and follow your desires with no inhibition whatsoever. That is how Manipal opened up a haven of footballing world to me.
Going to a Medical school means – either you were a nerd at school or your parents are too rich and want you to be a 'Dr.' So you do the Math. Most of the latter are fairly good at 'Extra Curricular Activities' and hence do contribute to that aspect of a med school.
As a result, I came across a fair share of characters over the years –
• The ones who play football from good old days or
• The ones who 'follow' football [be it a club, country, or just simply enjoy watching] or
• Mixture of both
First Year
Footballers find each other, mingle. Soon they are found paying fines for breaking corridor lights and window panes of the hostel [R.T.Block]. Venture out, try to stay as a big group to avoid ragging, found with abrasions from knee below playing on Nehru cement Courts. Since one is afraid to play with any stranger, soon indulge in IntraBatch football [In our batch of 250, around 30 plays football ;)]. There talent and skills are soon discovered and we have a first year team in the making.
Being left footed has an added cutting edge. I happened to score two goals in one such intra batch game and soon found myself in the regular football playing bunch of our batch and that marked the beginning of some wonderful footballing years.
Struggling to come to terms with staying away from home, the lack of good food, our bodies go into reconstructive mode, which is good, cause somehow we are out fittest best towards the end of first year.
Year end play at the first Inter Batch Tournament. The real test of character, where one or two impress to have a look in and maybe grab a spot for the college team. The excitement and buildup to the first worthwhile tournament in college is massive. A sort of unity and solidarity and the desire to convert to results. I still remember the first match we played in that tournament. It was at the MJC ground, Manipal. Our Captain Aditya injured his arm and was subbed out. We ended up losing our second game and getting kicked out of the tournament.
Second Year
Team leaders [CRs – class representatives] started taking initiative to ensuring a good preparation went in to the coming years tournament. A bunch of us football enthusiasts joined our seniors to playing football every evening at 5.30 – Venue KMC Stadium or KMC greens or End point – whichever was convenient.
My desire and passion for the game was so much that I used to run back from practicals which ran late some days in the evening just to make sure I was on time to get some playtime. [the first to arrive gets to play longer on the pitch ;)]
All the team hardwork resulted in us becoming runners up in that years Inter Batch tournament. But with all the politics among the seniors, none of us managed to figure in the College Team that year.
Third Year
We were fortuitous as the seniors were not allowed to participate in the forthcoming Jipmer Inter Medicos , [apparently they were unruly the last time] so our batch fielded a team with our 2 junior batches and headed to Pondicherry.
It was a really proud moment for me to have been a part of our college team, to don the college jersey, and surely the best moment of my football life. I wore the number 9 jersey and marshaled the left wing. [Further on I played 3 times again for my college team]. With a lack of active coaching staff and this being our first tournament, we lost out in the group stages but ended up having a fantastic time in Pondicherry.
Final Year
Yup the dreaded year, when all we are expected to do is clear the exams with acres of material to study. So with a heavy heart I opted to stay out of all tournaments and resisted the temptation to go to Pondi again.
Internship
Having cleared the exams, with no bother of the future ahead, I enjoyed internship, playing football at every opportunity when I dint have work. I was so engrossed into the footballing sphere that I have to admit that I started spending every possible free time too on the pitch. [a few friendships were irreparably strained!] But I do not blame them for failing to understand my passion for the game, it is always good to have something in life which your heart fully goes out to. 
Club Banter
What is the point of following the game if you don't follow a team  The irresistible club banter often ends in name calling, abusing, polarized views and what not. But that is the fun part of football. There used to be endless fights in the hostel tv room, like which clubs game will be watched live or who books the TV room for the game first. Watching football action at my friend Jonathan's place with a couple of beers over the weekend was something I preferred any day rather than heading to the club on a Saturday night and I am sure all you football fans will be nodding their head in agreement.
Having played as a genuine left wing player over the years, I played my last tournament in Manipal as a Centre Back for the TIPS team when we went on to win the tournament scoring 17 goals in 5 games keeping clean sheets in all of them!
7 years in Manipal – inspite of multiple injuries [knee, ankle, eye]; I have made a huge number of friends on the green strip, I've been lauded for my skills, abused for my short temper , but my passion for the game will remain the same till my last breath. The moments I spend on the pitch are the ones I enjoy the most. Ever since I left manipal, I haven't played football. Would love to come back here again and kick the ball around once again to reminisce the good ol' days. Thank you Manipal.
P.S. All you football lovers do share your experiences too here if you may 