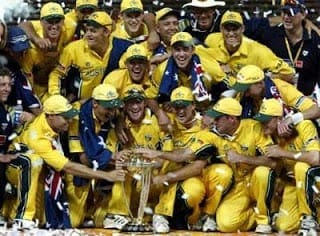 The team that everyone on this planet, apart from their own countrymen, wishes were humbled! For long this team has been the epitome of bad blood among all cricket playing nations, a ruthless ruler that has subjugated all the other contenders, the decline of Australian cricket in tests has taken away the limelight from the fact that they are still the Number One ranked team in the ICC rankings for ODI's.
The Australian squad for the ICC Cricket World Cup 2011, looks very settled and had a combination of super aggressive batsmen, run aggregators and pace bowlers who can be super quick. The recent 6-1 series victory over the English cricket team (the very same that humiliated them in the Ashes), shows that this team is not one to be written off lightly come the world cup.
Let's Take a look at their squad:
Shane Watson – Has had a string of good scores over the past one year, Is familiar with the Indian pitches due to his stints with the Rajasthan Royals, needs to carry on past 50 once he reaches that score. Reasonably good seamer and bowling option.
Brad Haddin – Aggressive Wicket keeping batsman, though not in the same league as Adam Gilchrist. Has to be spot on with his glove work behind the stumps.
Ricky Ponting – A player in steep decline, has lost the pull shot, which was his bread and butter. Has a generally poor record on the sub-continent, If you had to pick one game-changer for Australia it would be the form, and fitness, of Ponting.
Michael Clarke – Has been in poor form of late, showed signs of his class in the 6th game against England. Is a good player of spin. Would be the key to Australia's fortunes in the initial stages of the tournament.
Michael Hussey – The finisher and run aggregator. Has been plagued by injury and is struggling to make himself ready for the world cup. If fully fit, can be a pain to remove for the opposition team.
David Hussey – Hasn't been able to make a name for himself on the international circuit, still has his elder brothers shadow hovering over him.
Cameron White – An aggressive all rounder and competent fielder, this might well be the stage on which his career may be defined.
Steven Smith – All rounder, leg spinner, unknown commodity in international cricket. Doesn't have the numbers in domestic cricket that matches the hype in the media. A dark horse.
Mitchell Johnson – Erratic, performs well against the sub-continental teams, not so well against teams which are used to bouncy wickets. Another poor performance here may spell a long time away from international cricket for him.
Brett Lee – Returning to international cricket after a long hiatus against England, he was at best good only in some parts. Very expensive and might be found out on sub continental pitches. Contrary to what Steve Waugh said about him being the lynch-pin of the attack, I believe he will not have much of an impact.
Nathan Hauritz – The less said the better, was the right man for these conditions but his life, at the moment, is like a fifties tear-jerker – Harsha Bhogle.
Doug Bollinger – The bowler in the Australian team who I believe will have the most impact. His experience with Chennai Super kings will hold him in good steads.
Shaun Tait – Uh! Why bring him along? An odd choice considering his repeated breakdowns in conditions that do not resemble home!


John Hastings – A pick out of the blue. Hasn't done much of note in the ODI's or domestic games he has played. Unknown commodity, might get a chance against the lesser teams.
Tim Paine – I wish he gets more chances, like his attitude towards batting. I would prefer him to Haddin, but Australia's selection policy is thoroughly muddled and he may well not play any games this world cup.
So all in all, I believe Australia may well make it 4 in a row, something that has never been achieved. This will be a swan song for Michael Hussey, Brett Lee, Ricky Ponting and probably Shane Watson, so expect them to make an impact in one way or another.
Chances out of 100 to reach the Semi finals of the world cup – 80%
Chances to reach the finals – 60%
How do you rate the chances of this team? Have they chosen the correct squad? Do you agree with my assessment of the team?