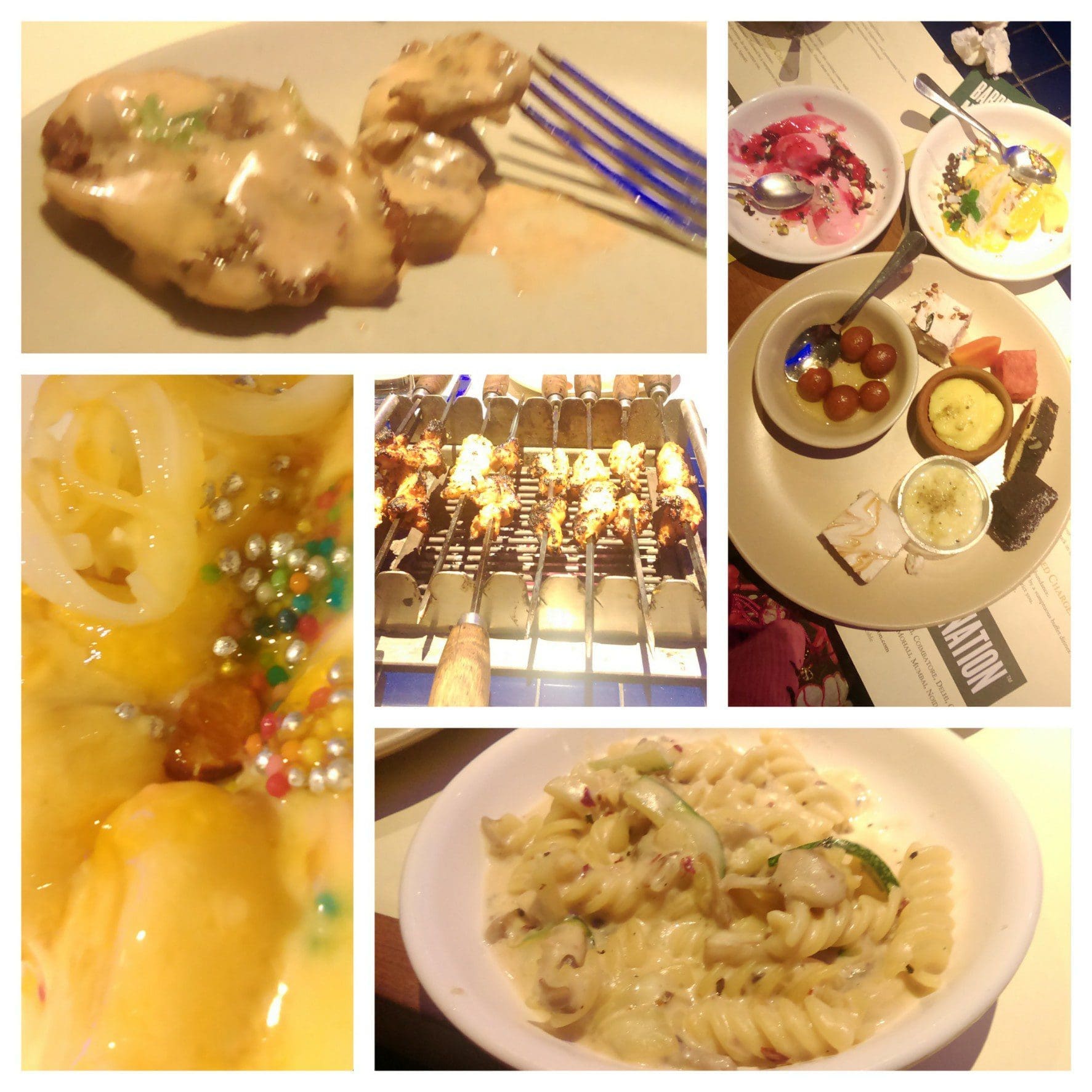 Everyone were talking about barbecue nation which opened recently in Mangalore. So we made a reservation 2 days prior to have lunch on a week day  (lower rates compared to dinner and Sundays). We got the reservations at 2:30 pm. All of us were starving when we reached there. We were asked by our friends to reach there earlier than the booking time, to avoid cancellation.
Even though there were a variety of starters (barbecued chicken, prawns, fish, vegetables etc.) we loved fish, prawns and mushrooms. Potato (in a sauce) and the corn fry were delicious. You need to ask for corn fry, since its not in their menu. Since we were so hungry, the knives kept slipping and we had to keep asking them for extra knives.
There is a kulfi counter and pasta counter.The white sauce pasta is a must try.
In the main course buffet (we were almost full by the starters itself), soups, rice, varieties of curries, biryani (non-veg), noodles (veg), rotis , salads etc. were available. One side had vegetarian main course and the other side had non vegetarian food.
For desserts – ice cream, gulab jamoon, cheese cake, paan pastry , missisiippi mudpie, almond kheer, phirni and fruits – papaya and watermelon.
During our lunch, one of my friend A was admiring a cute waiter (there were many cute ones) and was waiting for him to come to our table. another friend B wanted a fork and called another waiter. A started whispering loudly to her "Not this one! not this one!". We all burst into laughter.
We were so full by the end that we couldnt move and C wanted to eat more gulab jamoon (it was yummy !). She looked at the tiny gulab jamoons and started "You!!! I like you… You have to go in… You and me… have a date with destiny" and then she ate it.
It was the closing time and we were trying very hard to finish the desserts. We were the only ones left at that time.
It was a treat for eyes and our stomach, just that our stomach didn't have enough space to eat how much ever we wanted.