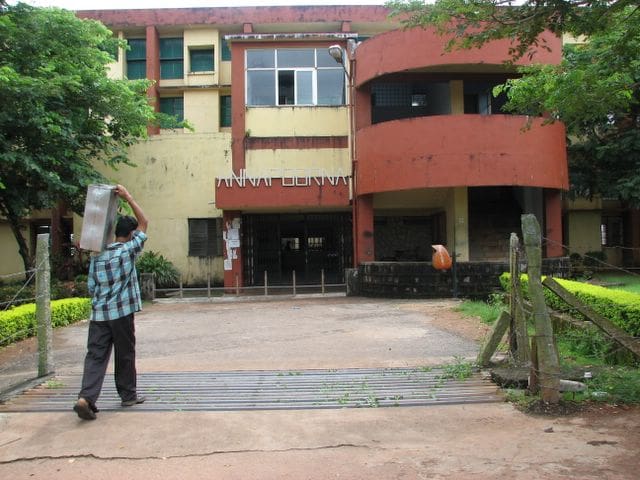 Winds of change that have swept across MIT have now pinched Annapoorna mess. After the Revolution in front of the Manipal.Edu building on 15th March 2012, MIT ordered setting up of a Mess committee to look into various problems about seating and food. After lengthy consultations and innumerable haggling, many decisions were taken. According to the notice from Chief Warden's office, Annapoorna MIT Boys Mess will now have 5% seats reserved for girls in all the four sessions w.e.f. April 2,2012.
Explaining the rationale behind the move,the Chief Warden told us, "Many clubs in MIT organise their events at 10th block basketball court. Being a part of organising committees girls come here and they are seen eating here often. So,we decided to reserve some seats for them here so that they don't face any inconvenience."
The decision was welcomed by both boys and girls of the college. Some girls even went to the extent of suggesting that, similar concession should be allowed to boys of MIT at their hostels.
"It's a nice decision with a very good intention. But I don't think reservation is required. When I dined in the mess, boys over there were willing to part with their seats and offer me theirs. They are very nice and cordial," said Kareena Kaif, a female student who has dined in Annapoorna a couple of times.She is of the opinion that  girls should be allowed to join the mess with their mess cards which will prevent the tag of 'freeloaders' on them.
Kamaal Bahesh Mhatt, an inmate of 10th block,said, "It's a good proactive move by Chief Warden and I wholeheartedly welcome it."  Surprisingly,a few days back Kamaal was seen abusing college authorities  with choicest abuses(on Facebook) because of congestion in Annapoorna mess.
Following the announcement,the MIT girl students, who often like to eat at Annapoorna Mess, have decided to give a list of items that they would like to be ready in the Kitchens. We have learnt that they want more "Girly Foods",including, Quiché; tossed salad with a light vinaigrette dressing (Romaine lettuce, without that cheap Iceberg crap); strawberries and champagne; cheesecake (modest slices to keep their figures good); chocolate — especially dark chocolate, higher in antioxidants; chicken, grilled or baked; fish grilled, poached, or baked; steamed vegetables.
We have learnt  that the Mess Manager is going to introduce Dairy Milk chocolate in the menu on  Wednesday evenings as per the suggestion from one of the girls. He also said,most of the stuff they've requested will be slowly introduced into the menu.When asked why he does not consider any suggestions made by the boys, he said " Shakal dekhi hai aaine mein?".
P.S : All facts in this article are made up but you already knew that, didn't you ?