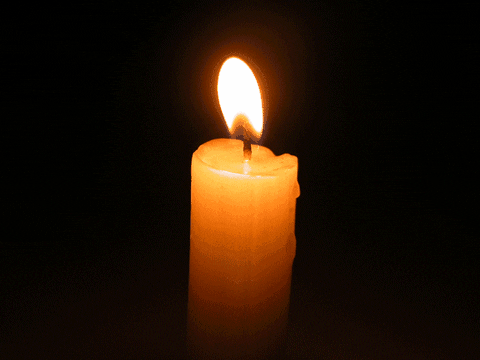 An open question to each and everyone of you in MIT who had resumed their daily life in Manipal today.
In case if you were busy with gupshup, assignments, SP, Dee Tee and what not, there happened to be a candle light vigil at the Venugopal Temple in the campus this evening.
I had gone out of solidarity, hoping there to be a sea of wax with flames as bright as our determination blazing in Ishan's memory.
And what do I find out?
Hardly 200 to 300 people show up. More or less the same people who showed up at the quadrangle on Monday. Even the Student Council leaders, inspite of the insults, taunts on facebook had the heart to show up today. For all your bravado, give them a break.
Even Ramesha C, who had the second highest number of abuses after Mrs. Garg had shown up. His eyes were moist with tears, even as he said this words:
"When you strive for change, atleast strive to honour the one in whose honour you fought"
Ladies and Gentlemen, this was a broken man, who admitted to being haunted by nightmares of yesterday. Who despite being unmarried, said that he forgave us, as he thought of us as his own children.
We insult these human beings to having no integrity.
For your kind info, all the authorites other than Mrs. Garg admit in their role in allowing this situation to happen. They admitted that we were justified in our protest, that they had been insensitive to us.
They had the balls to come and pray for Ishan. Atleast they genuinely cared. What does this say about us?About those who showed up at the edu building?Was this just to take revenge on
Kum Kum Garg
?
But hold on, don't think I'm criticising just you.
Some of you who were smug about those who showed at the edu building, and said that it was a disgrace that a mob had formed, abhorring all violence, claimed that the condolence meeting should have been concluded with a candle light vigil yesterday. That you still cared.
Instead you are all worried about placements, and not worried about honoring his memory, under the influence of rumors that placements are shot to shit.
And you didnt show up.
What was so hard in showing up, lighting a candle which can be purchased for five rupees, and saying a few prayers before leaving?
It's hardly ten minutes work.
Some of you are so expert at lighting cigarettes it would have taken you atleast 5 minutes to do so.
Where were you all when you screamed "Ishan Amar Rahe" yesterday?
Is this how you wish Ishan to remain Amar forever? Out in the cold dark wind of the night as the wind extinguished the few candles that had been lit?
As me and a few friends who believed in Ishan's memory, stood in the tranquil atmosphere of the Venugopal temple, the crowd dwindled. The candles began to dim.
A week of revolution was coming to an end.
But we decided not to let it end so pathetically.
With our lighters, we began relighting all the candles, atleast in your honour. You who agitated, but couldnt light a god damn candle.
We didnt even wince as the lighter fluid ran and the weak flames singed our fingers.
When the lighters ran out, we used candles to relight any remaining candles.
And then, as we received assurances from the much maligned DoberMen that Ishan's photo would be safe, we called it a night.
A week of revolution finishes.
A new phase, as you call it, begins.
Fight against utility bills, against the mess food quality, against the high fees and every issue under the sun.
But remember one thing.
Will you be able to look at yourselves in the mirror and say that you have done the right thing?
If you are able to sleep at night, good for you.
If you cant, I will pray for you.
Keep posting and liking, commenting and sharing, but remember.
The splotches of wax that remain at the Venugopal temple, before they are erased by time, like our fickle memories, will be a stern reminder to our apathy.
– A True MITian