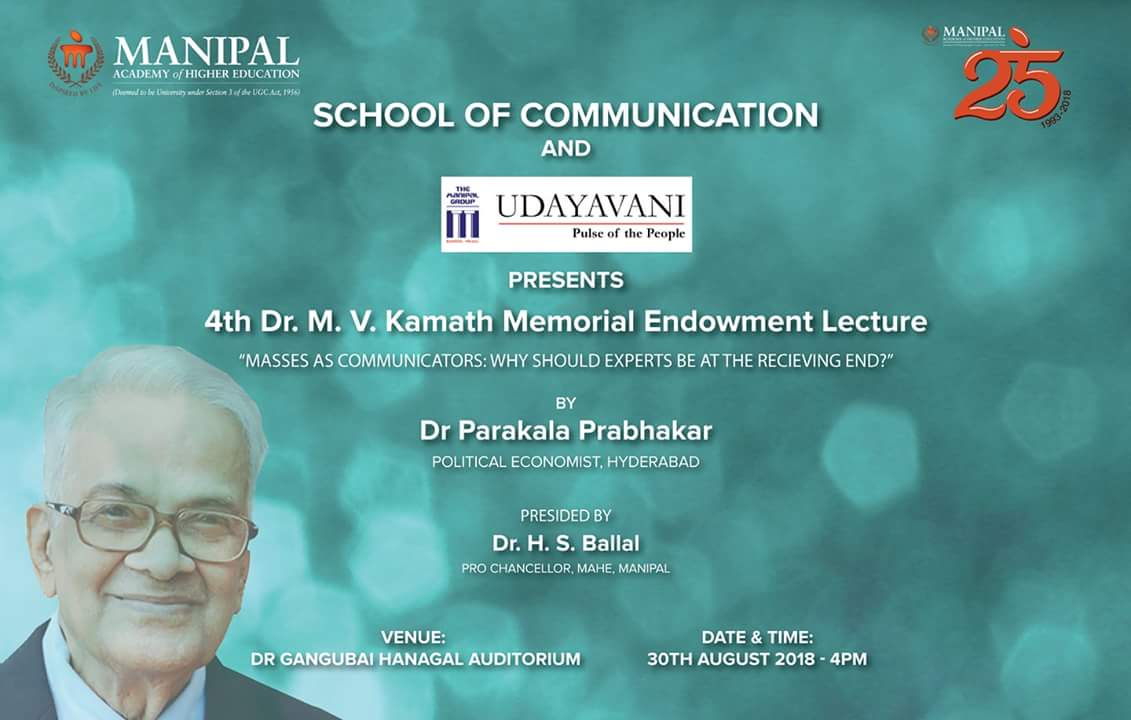 In the honor and remembrance of Dr. M. V Kamath, School of Communication hosted the fourth 'Dr. M.V.Kamath Memorial Endowment Lecture' on the thirtieth of august, at Gangubai Hangal Auditorium in MCPH.
Dr.M.V. Kamath is a well-known name in the field of journalism. He was an eloquent writer as well as an amazing orator. School of Communication organizes Pro.Verb-M.V. Kamath Memorial National Debate Tournament annually to pay tribute to this great journalist and profound persona.
The lecture was delivered by Dr. Parakala Prabhakar, a political economist and a former adviser for communications for the Government of Andhra Pradesh, on the topic 'Masses of Communicators: Why should experts be at the receiving end?' Dr. Prabhakar was also a member of the task force of the Planning Commission of India which formulated the tenth Five Year Plan of the nation.
Communication works in a way where a small portion of the population act as communicators and the larger portion is on the receiving end. Dr. Prabhakar wants us to flip the coin. He said, "There is a structural asymmetry observed when it comes to communication. Majority of the population remains as the consumers of communication and not its producers or generators. Mass communication has ruled out communication from the other side."
He wants us to step up and beat the hierarchy. With developed technologies and tools, even the masses today can communicate their thought to everyone. However, he wants us to ponder over the fact that though they are communicating, are we listening?
He left the listeners with the question, How? "I do not want any 9pm debate TV show to decide on this, rather I want young and better mind like of the students to come up with an answer" he concluded.
The occasion was also graced by the presence of Pro-Chancellor of Manipal Academy of Higher Education Dr. H. S. Ballal and the Director of School of Communication, Dr Padma Rani.